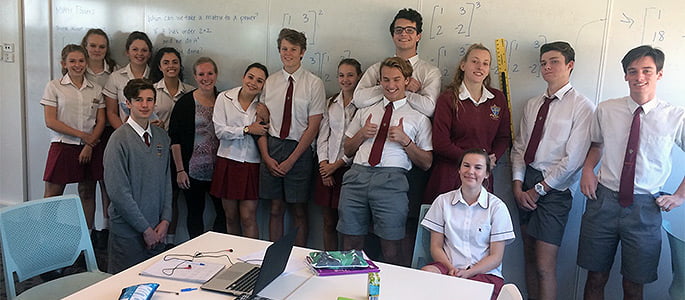 Molly Sutter, a 2016 Hastings College graduate and Papillion, Nebraska, native, spent the last semester of her senior year in Canberra, Australia, returning to Hastings just three days before graduation.
"I spent my time at Radford College in Canberra, where I was able to teach a few mathematics classes using Australian curriculum," Sutter, the Outstanding Senior in Mathematics and Computer Science Award winner and Summa Cum Laude grad, said.
Sutter faced some difficulties trying to adapt to the Australian high school curriculum, but she ultimately prevailed in her teachings.
"The math classes there were not split up into algebra, geometry, calculus and so on; they were split into year nine, year 10, and different levels of year 11 and year 12 classes. It was a challenge for me to know what these students had already learned in the past."
Sutter's experience came to be when she approached Dr. Kathryn Rempp, the head of the education department, explaining that she wanted to fulfill her student teaching requirement somewhere outside the United States. Dr. Rempp helped Molly find The Global Gateway Program, which allowed her to do this through Indiana University.
"The Hastings College Education Department helped me when I needed help and supported me through everything," Sutter said. "This has now helped develop a bit of a partnership between Hastings College and the Global Gateway Program, which hopefully makes it easier for future teachers to explore the possibilities of teaching abroad here at Hastings College."  
Learning outside the classroom
But not all of Sutter's experience as a teacher and mentor came from within the walls of the classroom.
 "I worked with many different teachers while I was there and was able to extend my student teaching experience beyond just mathematics' classrooms; I was able to accompany students on school camping trips and excursions across Australia," Sutter said.  
 Furthering her education
Sutter already accepted her first teaching position, beginning in August in Louisville, Nebraska. She plans to continue pursuing and developing her education as she teaches.
"I will be teaching 9-12 grade mathematics at Louisville High School," Sutter said. "I will be continuing my education as I plan to get my masters in mathematics while I teach, and then I plan on entering a Ph.D. program in mathematics after that. My long term goal would be to eventually become a professor of mathematics at the college level."
By Jake Konen, a junior from Hastings, Nebraska, majoring in English and Marketing