When you sit at a railroad crossing and watch a train go by— its cars loaded with grain or clothing or even automobiles — you likely don't think about the marketing and logistics it takes to get those commodities to consumers.
For Christa Hamilton Pichler '04, however, it's all in a day's work. As director of business development for ShipCarsNow, a Union Pacific Railroad Company in Omaha, Nebraska, she works behind the scenes with the rest of her team to make the transportation happen.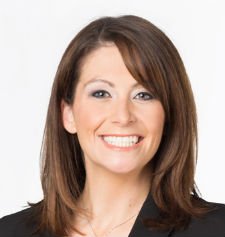 Pichler has used her leadership skills to hold responsibilities at ShipCarsNow ranging from managing a sales team and overseeing marketing and pricing to assisting with the strategic direction of the 10-year-old company. ShipCarsNow offers various modes of transportation for auto shippers to reach a wider range of markets at a reasonable cost of transportation.
"Our primary business focus is used cars, but we support different rail-related projects for new vehicles as well," Pichler said. "We are a small, creative group that targets shippers that are not used to using rail. Rail, in many cases, can be much cheaper than trucking, but it usually takes longer in transit on rail. So, we have to have the right mix of cost savings for our customers to offset the longer transit times."
From cap and gown to the world of work
Pichler began working at Union Pacific immediately after graduating from Hastings College.  She started in the Market Development and Sales Center, and from there she climbed the ranks as a market analyst and senior product manager to her current position at ShipCarsNow. She also earned an MBA in international business and entrepreneurship at the University of Nebraska-Omaha.
Her role as director of business development requires characteristics like creativity, leadership, and perseverance — all of which Pichler says she honed during her time at Hastings College.
"Beyond the obvious academic learnings, I would say my independence, leadership, perseverance, and creativity flourished while I was at HC. I was involved in a variety of organizations on campus that developed my leadership skills," she said. "Independence is a natural thing you have to figure out when moving away from home, having to own your responsibilities and determining how you are going to succeed in the world."
Pichler also attributes her business success to the opportunity to create a personalized major while at Hastings College. Not only was she a marketing major, she also completed a major in computer graphics and minors in information systems and psychology.
"I discovered that I enjoy being creative whether in the obvious sense of graphic design or in the more abstract sense of innovative ideas and approaches to problems," she said. "My personalized major was a daunting number of hours to complete in four years, so perseverance really helped with that. I am pleased to say that I have had an opportunity to use every part of that major, and I am truly thankful to have had the opportunity to design it myself!"
Influencing for the future
Pichler mentions professor emeritus of business administration and marketing, Dr. Carol Meyer, as her most influential and memorable professor.
"Dr. Carol Meyer was my advisor and definitely my most memorable professor.  I loved how just frank and honest she was," Pichler said. "She helped me to develop as a leader and as a student.  She challenged me in her classes but supported me in my development.  She never sugar coated anything, and I think that college kids need that!  The real world is hard and she helped me prepare for it."
Aside from marketing and planning logistics at ShipCarsNow, Pichler, along with her husband, Ryan, keeps busy with their two young daughters, Emersyn and Siena.
By Jake Konen, a junior from Hastings, Nebraska, majoring in marketing