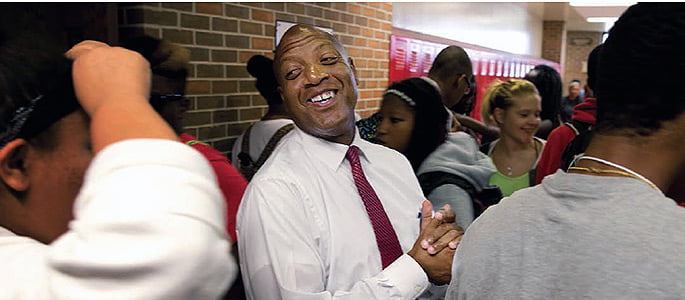 Principal. Coach. Role model. Mentor. Thomas "Tommy" Lee '87 fills each of these roles at Omaha Northwest High School, where he is serving his first year as principal and coach. Omaha Northwest is a magnet school and the newest of the seven schools in the Omaha Public Schools District.
As a prominent leader on campus, he draws from his athletic background, as he participated in football and track during his time at HC, to develop character.
"My career has been invested in athletics, and I think there's a lot to learn from being involved in sports," he said. "It teaches you about communication, teamwork and getting along with people. … I try to teach those things no matter what I'm doing."
Tommy said that these core values are the basis of a strong program, and he strives to instill these values into the students and athletes he works with every day. The values, he says, are the reason for his school's successes. "We've had a lot of positive news, so I feel good about the direction we're going," he said.
His goals for Omaha Northwest this year involve getting alumni more involved, improving the curricular programs and boosting enrollment. He said each of these improves school pride, which ultimately makes students feel more involved and perform better.
As he leads the school and its students, the leaders he had at Hastings College provide an example for him to follow.
According to Tommy, the guidance of his Hastings football and track coaches Ian Roberts and Dale Timperley were especially influential.
"Their dedication to me, the other athletes and the college community helped me be where I am today," he said. "They were good coaches, role models and supporters who gave me many opportunities to get better each and every year." Under their guidance, he had the opportunity to be captain in football and track his senior year.
Tommy said he appreciated the small size of Hastings not only for its involvement opportunities, but also the connections he was able to easily make with other students, professors and administration. The approachability of the vice president at the time, Phil Dudley, was particularly noteworthy to him. "I don't think you can go to a lot of institutions and have great relations with the vice president," he said.
Connections are important to Tommy —he said that he currently wouldn't be at Northwest without the connection to former principal Herman Colvin through athletics.
"When I heard he was stepping down, I thought there was no one better to follow than someone who helps you get your career started. I didn't think I'd get the job, but I thought I'd give it a shot," he said. "I'm enjoying every minute here at Northwest."
Tommy constantly looks to turn around and create meaningful connections that provide guidance to students similar to what he has received in his life. "My greatest career accomplishment is anytime I can impact a young child's life and see them be successful. … [T]hat's what it's all about for me," he said.
Another important objective for Tommy is to guide his students to seek higher learning. Although he doesn't believe every student necessarily needs to attend college, finding another place to grow and discover themselves is crucial, he said, adding, "that's what I found at Hastings College."
By Emily Case '14