"I struggle to describe what it was like cheering at my first game—the crowd is absolutely thunderous and the energy at Sport Authority Field is electric," said new Denver Broncos Cheerleader Jozie LaViolette, a 2013 Hastings College graduate. "But mostly, I couldn't believe that a dream I had had for so long finally came true."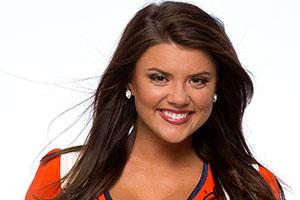 LaViolette earned herself a position on the Denver Broncos Cheerleading team for the first time, as she was one of five rookies chosen to help complete the 26-member cheer team for the 2015-16 football season.
LaViolette said her passion for dance started because it was the first sport that challenged her both physically and emotionally, and it continues to do so today.
"I love to dance because it is an outlet for me to express myself in a team setting or in an individual one," she said. "I specifically love being a Denver Bronco Cheerleader because I get to not only cheer on the best team in the NFL, and dance with 25 incredibly talented women, but I get to be involved in my community through charities, community events and the Denver youth."
Around 200 women auditioned to be part of the team. The application process lasts a little more than a week, starting with a weekend round for preliminaries and semi-finals.
The first two rounds of auditions consist of basic technique, choreography, memory, execution and overall appearance. From there, 59 women are selected for training week and finals. Here, candidates learn up to four routines in addition to a self-choreographed piece.
Hopefuls are interviewed by a panel of judges and take a 100 question football test. At the end of the week there is a finals show that is open to the public. Once performers are done, training camp scores are combined with the final score and a team of 26 is selected.
"It took me a few years to muster up the courage to really go for it! It can be intimidating seeing the caliber of women on professional dance teams, but you have to realize you're able to bring special qualities to a team, too," LaViolette said.
Originally from Omaha, Nebraska, LaViolette attended Hastings College where she graduated with a degree in Web Communication Design. She was also involved in the school's Crimson Spirit Dance Team.
"I was honored to be a captain my senior year," said LaViolette. "As a captain I developed valuable leadership skills that have carried over into my professional work and dance career. Hastings College is where I realized that working in a team was important to me and that working within your community is so important!"
Aside from cheering for the Denver Broncos, LaViolette is living in Denver and working at The Sawaya Law Firm as the Co-Director of Marketing and Social Media.
"I am also working with the Broncos' Dare to Cheer program through the Global Down Syndrome Foundation—it is something that I am very passionate about and honored to be a part of," LaViolette said.