Two years ago, Ashton Lambie '13 set the record for the fastest bike ride across Kansas. Now, Lambie, with his orange handlebar mustache, is gripping the handlebars of another bike — one that he pedaled fast enough in the velodrome, cycling's racing track, that he's the number one ranked rider in individual pursuit and omnium.
This year's success began in August in California where, after three grueling days, he won gold in individual pursuit and two silvers at the USA Cycling's national championships.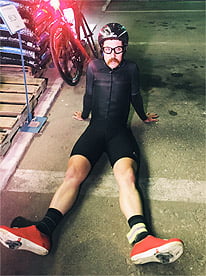 As national champion, USA Cycling selected Lambie to represent Team USA in the Pan-American Games in Trinidad and Tobago. In his first competition outside the United States, he finished fifth in the individual pursuit — and he'd only been racing on the track for a little more than a year.
The Lawrence, Kansas, resident has kept on riding, to the track Asia Cups in Bangkok, Thailand, and New Delhi, India, where he won gold in the individual pursuit at each and silver in the omnium at New Delhi. His success there propelled him from an unknown rider to the top ranked cyclist in each event.
The success means Lambie is spending more time on the training circuit — and away from his job at Sunflower Outdoor and Bike Shop in Lawrence, Kansas.
In October, he was in Colorado Springs, Colorado, for sessions at the Team USA training camp, and another session in camp was planned for November. After that, Lambie said he's hoping to get picked to go to a World Cup or two, with the goal this season being the World Championships in March 2018 as part of the the USA Team Pursuit squad and perhaps for the individual pursuit.
After that? More training and international racing. And the 2020 Olympics.
Follow Lambe's wild ride at www.teamlambie.com.