Ashton Lambie's teammates on the USA Cycling National Team call him Lambo. Or Corn-fed. Or the Flying Mustache. Bicycling magazine calls him "The Most Interesting Bike Racer in America."
The rest of us? We'll just call him the fastest cyclist in the world.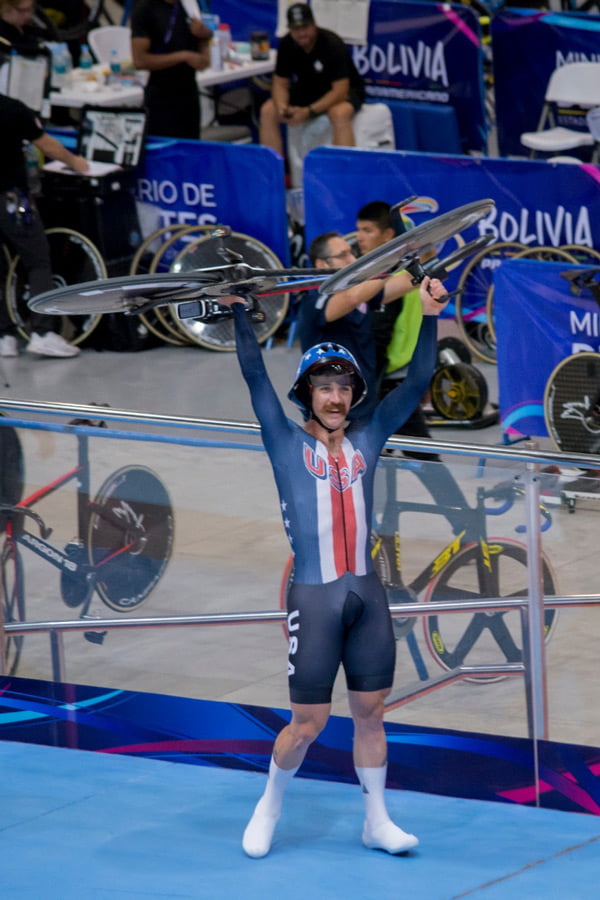 In September 2019, the 2013 Hastings College graduate broke his own world record, twice in one day, and won a gold medal in the individual pursuit event at the Pan-American Track Cycling Championships in Bolivia.
"Being at the pointy end of something, and being among the best in the world at what you do, is a cool goal," said Lambie, who lives with his wife Margaret (Gregory) Lambie, a 2014 alumna, in a wood-heated farmhouse east of Lincoln, Nebraska.
Lambie, a charismatic fellow with a handlebar mustache, massively-muscled calves and colorful tattoos, has been cycling since he discovered his dad's road bike at age 15 and did his first century (100 mile) ride. While studying business and music at Hastings College, he helped launch Bronco Bikes, a bike sharing program that is still going strong, and began competing in ultra-distance races of 100 to 600 miles.
After graduation, Lambie and Margaret moved to Lawrence, Kansas, where she completed her doctorate in music at the University of Kansas. He started racing on gravel and, for a time, held the record for fastest ride across Kansas, cycling 400 miles in less than 24 hours.
On a flat grass track on a pasture outside Lawrence, Lambie discovered track racing, the sport that would launch him to international prominence. His first year competing in individual pursuit, he won nationals.
"That propelled me to the USA Cycling National Team and the whole international circuit with world championships and world cups every year," he said.
In individual pursuit races, two cyclists start on opposite sides of a velodrome, a 250-meter track with banked sides. ("It looks like a big wooden bowl because the sides are so steep," Lambie said.) Seated on one-gear bikes with no brakes, the cyclists ride 16 laps as fast as possible.
Individual pursuit is not an Olympic event, but Lambie hopes to qualify for the 2020 Tokyo games in his second event, team pursuit, where two four-man teams start on opposite sides of the track and race 4,000 meters. Halfway through qualification events, Team USA is 10th in the world. Only the top eight teams qualify for the Olympics.
"We have to do a lot better this year as a team to go to Tokyo," Lambie said.
Lambie's doing his part by training 700 hours a year on gravel roads and a stationary bike in the country home he shares with Margaret and two angora rabbits named Marie and Jacques.
"I like going really fast on the bike, exploring the ways you can suffer and how that pays off. I like winning," he said.
By Judee Konen '85, Associate Vice President for Advancement