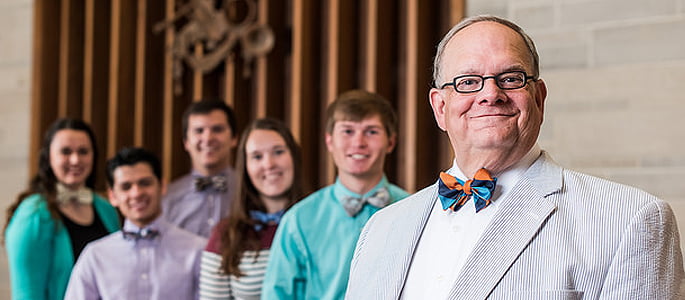 Mike Tushaus '98 was eight years old the first time he met Dr. Robin Koozer '76.
The Hastings, Nebraska, youngster was taking part in a week-long summer enrichment program for the arts, and Koozer spent a day working with the children's choir.
"I remember it to this day very vividly. It left its mark on me," Tushaus said.
While the boy remembered the conductor, he never expected the conductor to remember him, just a kid in the crowd.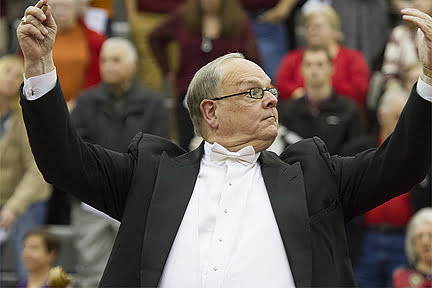 But a decade later when Tushaus was deciding his post-high school plans, Koozer, the Hastings College professor of music and department chair, did remember.
"He found out I was considering Hastings, and he was so excited. He was beaming about it," Tushaus recalled. "He said, 'I remember having you in that summer enrichment class long ago.'"
Once again, Koozer made an impression, and Tushaus enrolled at Hastings College, eventually double majoring in music and theatre. Tushaus, who is now an actor, producer and composer in Las Vegas, said he always felt Koozer was rooting for him and the other music students.
"He wants to see you succeed because your success is his success," he said.
Hannah Jensen '15 said that, like Tushaus, Koozer made an impact on her long before she attended Hastings College.
"In fact, his passion for the college and for the Music Department in particular is what originally drew me to Hastings College," said Jensen, whose father, Dr. Byron Jensen, is a music professor at Hastings College and will take Koozer's place as department chair in January 2017 when Koozer transfers to the Hastings College Foundation. "I was lucky enough to see from a very young age how hard he worked to create and sustain an atmosphere where people are valued, students are pushed and inspired, and where a deep love of music is the center of it all. Being immersed in that environment at a young age made my decision of which college to attend very easy."
Jensen lives in Hastings where she has a private piano studio, teaches music classes and accompanies for Adams Central High School choirs and Hastings College Choir.
"(Koozer) did all that he could to provide guidance and support for us — not only for us individually, but also for the music groups and ensembles we were involved in," Jensen recalled.
"And he greeted each person with a smile and an open heart. I am so grateful for his presence in my life."
Town and Gown
Time and again, Koozer has shown himself to be a champion of the arts. Whether at the college, in the community, or one on one, he encourages both the pursuit and enjoyment of music.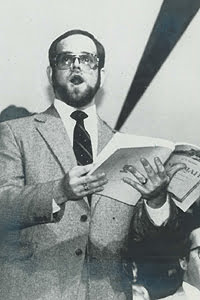 His passion extends beyond the boundaries of the campus and into the community.
HC singing groups perform at local churches. Students and faculty members perform in the Hastings Symphony Orchestra. The HC Bell Choir performs with the symphony and at other community venues. HC's Melody Roundup Parade at Homecoming draws high school bands from around the area. The music department hosts and assists with the South Central Nebraska Children's Chorale. The list goes on and on.
"There's always been a nice town and gown relationship with the college," Koozer said.
A community event is what drew the longtime professor to Hastings College in the beginning. Internationally known opera singer Charles Austin '75 recalled that he and Koozer attended Hastings College's honor choir together while they were in high school. Austin was from Seward, Nebraska; Koozer from Broken Bow, Nebraska.
Soon after, the two enrolled at Hastings College and lived in Bronc Hall together. (Koozer's dorm was the spot for card games and hanging out late at night. As one of the only guys with a refrigerator in his room, Koozer was very popular.) At the time, Hastings College's music department had a strong emphasis on classical literature. Austin recalled German and Italian art songs — but never a Broadway show tune. The music department was the second largest department on campus at the time with 150 majors. A third of the campus participated in music in one way or another.
This was the tradition into which Koozer was initiated. Music was everywhere, and Hastings College had a reputation for taking its polished sound into the community and elsewhere.
Tradition and Duty
After graduating with a degree in music education, Koozer taught a year at Superior Public Schools, a year at Hastings Junior High and nine years at Hastings High School as the choir director. Lin Warren '82 was Koozer's accompanist while Warren was attending Hastings College.
"I just remember him being so engaged and just loving the students," said Warren, who has been choral director at Hastings High School in Hastings, Minnesota, for 32 years. "I got a lot of things from Robin, but what I pulled was, your kids realize if you really care about them. He was a parent to them, and they loved him back. That's something I've carried with me my whole career."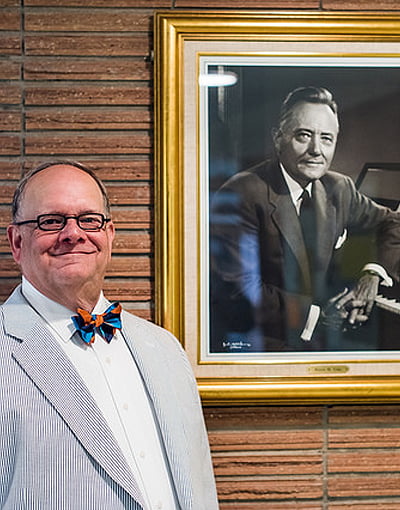 After earning a doctorate at Arizona State University, Koozer returned to Hastings College in 1988 as department chair.
"I was very much excited to return," Koozer said. "Millard Cates, my mentor, kind of handed the baton to the next generation. I think back on that time period, and that was an important thing, to have that continuity of tradition."
Specifically, that tradition is one of quality musicianship. It's one of the ways Hastings College has made a name for itself.
"Oftentimes if you mention Hastings College, you'll hear, 'They're known for music,' or 'They've always had a great choir or a great band,'" Koozer said.
As a music department within a liberal arts college, he said, Hastings College has a duty to serve minors and majors; the college community, as well as the Hastings community; and South Central Nebraska.
Austin, who now lives in Seattle and continues to sing in operas around the world, said Koozer has continued the Hastings College music tradition of his youth; he hasn't forgotten where he came from.
Tushaus said Koozer also hasn't forgotten the people and the community around him, either — even while busily tending to Hastings College duties. When Tushaus' father, Bernard Tushaus, a former communications and theatre professor at Hastings College, died last year, Koozer was there once again, continuing the journey alongside his student.
"He was there for my dad's memorial. He's been there so many times in my life," Tushaus said. "Not many students can go to just any school and have a story where this professor has been a part of your life so many times throughout your years. It was a good journey with him."
Story by Amy (McGraw) Palser '99