Finding the right internship can be a challenge, but for sophomore Natalie Knott, the choice was easy. Knott, as a  human resource management and marketing major, found the perfect internship with Abraham Catering in Omaha, Nebraska, after working with Kim Graviette in the College's Career Services Office.
Abraham Catering started in 1951 by George Abraham Sr., who expanded his business by contracting with dinner theaters at the Old Market in Omaha. In 1996, George's daughter Jennifer Kobs '95 and her husband Brian Kobs '96 came to work for the company helping make Abraham Catering became the largest catering company in Nebraska, catering as many as 25 events in a weekend.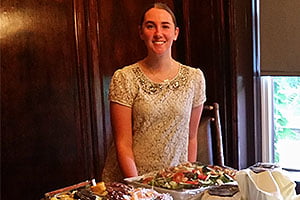 "Abraham Catering is a great company that treats everyone like they are a part of one big family," Knott said. " I am so blessed to have had the opportunity to intern here over the summer." Knott has spent the last two months as an event managing intern where she corresponded with customers, prepared for weekly events and set up and took down equipment at venues. "There is always something new going on each day, so no two days are ever the same. It's a very fun job, and the people I get to work with are great!" Knott said.
The Hastings College connection
Presidents of Abraham Catering, Jennifer and Brian Kobs, began working at the company  immediately after graduating from Hastings College. As the business began to expand, they began to hire interns. Knott was the first Hastings College student hired as an intern.
"Brian was very excited to hear that Natalie was from Hastings." said Chad Morford, president of sales and Knott's immediate supervisor. "We interviewed a handful of summer intern applicants, and being from Hastings gave her a definite advantage. I know Brian enjoyed his time at Hastings, and he has a feel for the quality of the students and education."
For Knott, the Thrive Leadership Program at Hastings College her freshman year was invaluable.  Thrive, a competitive program for first-year students, focuses on developing leadership philosophies, skills and networking opportunities.
"In my internship, I work with adults and business professionals on a daily basis, and with my experience this past year at Hastings College I feel more comfortable meeting people and conducting myself in a professional manner," Knott said.
This year, Knott said she plans to be involved in the Artist Lecture Series committee, Professional Business Leaders, the Talent Pool internship program, Student Alumni Association and other groups.  She said her internship at Abraham Catering opened her eyes to new opportunities after graduation and has solidified her desire to work with and help people.
For students looking for their own internships, Knott offers this advice: "Use any connection you have because you never know what that connection is able to do for you. Make sure that you take advantage of all the resources that Hastings College has available, and go see Kim (Graviette) in Career Services because she is amazing! But most important, don't be afraid to try something different, because you never know if you like it until you try it!"
By Ryan Smolko, a senior from Phoenix, Arizona, majoring in history