For many people, music is a passage to their most cherished memories, and songs from the past can be a source of comfort and joy. That's why for adults in skilled care and hospice facilities, music can really make a difference. This is, in part, what inspired Katie Kingsley '19 to focus her career on music therapy — she knows it makes a difference and also engages cognitive function, relieves stress and allows patients to express themselves.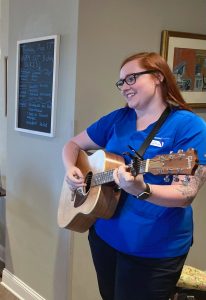 "What's interesting about music therapy is that it activates your entire brain in ways you can't imagine. For example, there have been studies conducted where music therapy sessions have helped stroke victims regain their motion in parts of their body through the repetitive playing of an instrument such as a drum or by dancing to a melody," Kingsley said.
Kingsley, who majored in music and psychology at Hastings, said she believed this career choice was her true path.
Kingsley said her passion for music therapy and helping older people began before she attended Hastings College. As a young girl, her dream was to help families feel confident that their older loved ones were cared for while creating a musical environment that brings joy to patients. Other benefits of music therapy include reducing stress, communicating with caregivers, and allowing patients to express themselves.
Music therapy is a new type of treatment — primarily clinical and evidence-based — used to help patients achieve goal-specific tasks. In Kingsley's case, she implements voluntary live music sessions with patients in hospice care units in the Kansas City area. This allows patients to engage with others and activate their brains.
For Kingsley, a session in care units can differ by days. While some patients prefer her to play their chosen songs live with her voice and guitar, others want to participate in music circles where they can play musical instruments like hand drums, maracas or hand shakers.
During music therapy sessions, patients can play the instruments however they please, with no directions or restrictions. Kingsley provides an open and safe space for everyone to feel comfortable.
The Hastings College music faculty, including professor of music Dr. Louie Eckhardt, pushed Kingsley's love for music. She also credits her voice instructor and choir instructor for allowing her to get creative when it comes to voice and singing with and for patients. Kingsley said music is her passion, and she's thrilled to get to utilize all elements of music she learned at Hastings College every day while working with patients.
After graduating from Hastings College she continued her education and licensing at Kansas University. After graduating she landed a job as a music therapist at Ascend Hospice.
Kingsley is working to open internship opportunities for students pursuing music therapy at the University of Missouri-Kansas City (UMKC) to encourage more students to enter the field. She also oversees the Legacy Project at her hospice care center where they provide heartbeat recordings of patients to a custom song for families and memory bears.
"Never sell yourself short, instead follow those desires or aspirations you may have for your future," Kingsley said. "Never be afraid to test the waters with different classes outside your major and speak with faculty, because they are there to support you."
By Cecilia Velarde, a junior marketing and communication studies double major from Loveland, Colorado