Growing up, Hastings College student Eddie Keen was surrounded by soccer. His father, Kevin Keen, was a professional soccer player and now coaches and manages soccer teams, and his grandfather, Mike Keen, was a professional player.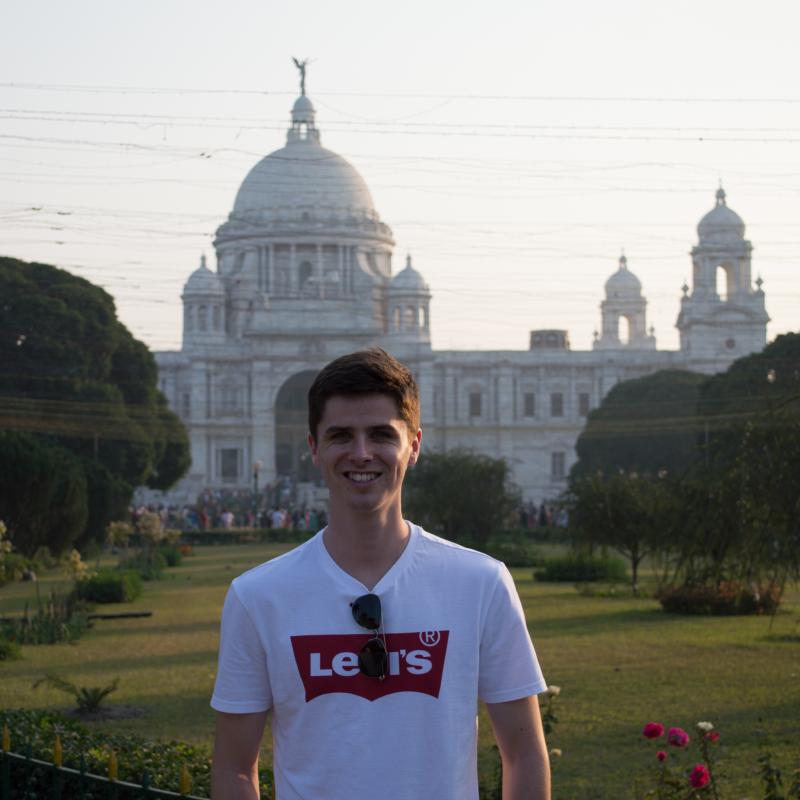 Eddie Keen, a Master of Arts in Teaching student from Amersham, England, has embraced his family's passion for the game, and spent the past five years playing and coaching in the United States. Over January Term (J-Term) this year, Keen had the opportunity to broaden his coaching experience, as he worked with Atletico de Kolkata (ATK), a professional soccer team in Kolkata, West Bengal, India.
Keen was looking to improve his abilities as a goalkeeping coach, and ATK was looking for an assistant goalkeeping coach. Keen's father, who was working with ATK at the time, was there to put in a good word for him. This happy coincidence and family connection lead to the opportunity, and before he knew it, Keen was spending his days training ATK's goalkeepers and reviewing game film with the team.
"The biggest difference between college and professional teams is that the professionals are grown men, with families, and this is their job, this is their main focus," he said. "They don't have the outside responsibilities that college players do, and they focus all of their attention on the game and improving."
Although he enjoyed working in the professional ranks, it didn't sway Keen from wanting to work with college teams after he completes the Hastings graduate program. "I like the structure of college teams more, I like the age group and the way you get to impact young players lives," he said.
During his time in India, Keen also got to take in the culture and sights, as well as spend time with his family.
"It was a unique experience getting to work with my dad. To me, he's always been my dad, but in the soccer world he's a celebrity," he said. "So getting to work with him, and see that side as one of his coaches instead of as his son was a really interesting experience."
Keen started his American soccer career five years ago, when he played for St. Bonaventure University, in St. Bonaventure, New York. After graduation, Keen wanted to continue his education and broaden his coaching experience.
"I would like to work as a collegiate coach when I'm done with school. When I graduated, I was looking for a graduate program that I would enjoy but also a team I would enjoy working with," he said. "I spoke with Hastings College head coach Aaron Champenoy and our philosophies on the game aligned and he was very good at giving me my freedom to do what I wanted to do, both with my studies and with my coaching, and it's stayed that way throughout my stay at Hastings."
By Anna Weber, a senior journalism major from Lincoln, Nebraska