In January, Hastings College sophomore Emma Johnson traveled to Haiti, where she interned with Bless Back Worldwide, a nonprofit organization that allowed her to gain in-depth field experience in her dream job: nursing.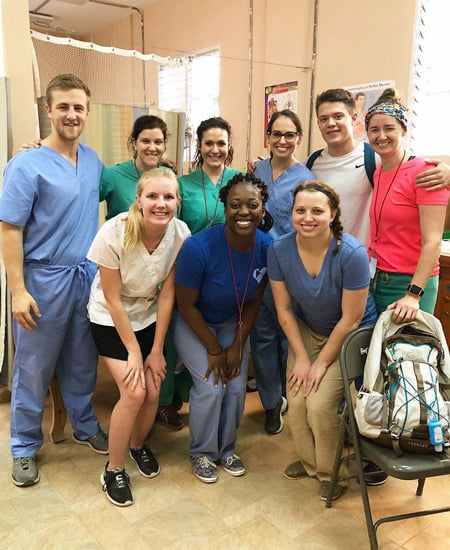 The pre-nursing major from Colorado Springs, Colorado, got to encounter real-life situations in Haiti that she wouldn't experience in a typical classroom setting. For example, when a man came to the clinic with a large gash on his chin from a motorcycle accident, Johnson was present for every step of his treatment. She took his vitals and shadowed the physician that gave him stitches.
"Being able to see what the physicians do first hand helped me learn skills I will use every day in the future," she said.
Johnson's internship also involved helping set up a medical clinic. Her role was to check vitals, spend time with patients and shadow physicians. Her internship consisted of two groups, one group who worked primarily in the clinic and one who worked in schools with children. When she had downtime, Johnson spent time in the schools reading to kids.
A family member who knew of Johnson's love of nursing introduced her to the organization in 2017. Haiti was her second trip with Bless Back Worldwide, a national nonprofit organization seeking to bring healthcare, business and education to Haiti and Nicaragua. Its goal is to create a long-lasting impact in underdeveloped communities. Johnson went to Nicaragua with the organization before she started her freshman year of college.
Johnson had been craving to help people since her trip to Nicaragua and brought up the idea of going to Haiti to her advisor, Dr. John Kuehn, professor of biology. He helped her prepare for the trip and ensure she would receive college credit for the internship.
"Without Dr. Kuehn, I don't think I would have been able to do my internship," she said.
By Courtney Hanson, a sophomore from Brookings, South Dakota, majoring in communication studies and philosophy.