Jordan Johnson, a senior music major with a biology minor, spent her summer developing organizational, promotional and social media skills while being exposed to the music industry.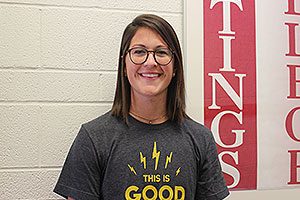 As an intern for Hear Nebraska in Grand Island, Johnson worked for Brent Linder, owner of Wave Pizza, The Glass Bar and Sin City Grill, and Sharena Anson, owner of Chocolate Bar.
Johnson's duties included organizing and promoting on social media free concerts held in downtown Grand Island. Concerts featuring three bands took place most Friday nights all summer long.
"I got to talk to the bands and get exposed to the musical side of the business," Johnson said. She made sure all the bands were present, helped set up for the concert and was there for whatever Linder and Anson needed. Her Friday work days started as early as 10 a.m. and ended as late as 1 a.m.
Hear Nebraska is an organization that promotes music, art and the creative industry across the state. It expanded to Grand Island in 2016, focusing in promoting music by hosting free concerts downtown. Money the business made from the food trucks and beer garden during the concerts were given back to nonprofit organizations in the community.
"I loved working with Hear Nebraska. Everyone was so fun," Johnson said. "It was such a cool environment."
The Hastings College connection
"I wouldn't have found this internship without Kim Graviette," Johnson said. "It was so neat working with her. She reached out to me right away when she found out that this internship was available. She was very helpful along the way."
Johnson is also a shooting guard for the Hastings College women's basketball team and was able to bring her new connections with Linder to Hastings College. Linder, who is opening a Wave Pizza in Hastings, contacted Johnson to see if he could do a fundraiser for the women's basketball team. To help support them, Linder donated the profits from a  pizza event in downtown Hastings to the team.
"I would never have gotten that connection if it weren't for that internship," Johnson said.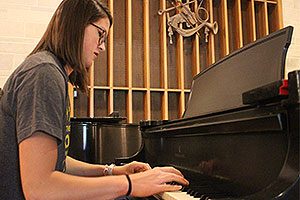 Johnson said she started off her time at Hastings College as a biology major because she thought it was interesting — but always had a passion for music. Through experiences in college it became more clear to her that music was what she loved.
"I learned to formulate my own ideas, opinions and passions since I've gotten to college. I realized, while I could be content with a career in biology, I want to love what I do for the rest of my life, not just enjoy it," Johnson said. "I want to either compose or write music, or go into the music production or audio production side of the business."
Johnson said she felt supported by faculty while going into the internship, but also as she weighed changing majors.
"It's nice having their backup and their leverage to get to where I want to be," Johnson said. "I'm nervous about the future but super excited because I know they're in my corner and Hastings College is in my corner."
By Dany Cook, a junior from Fairfield, California, majoring in journalism and broadcasting