As a junior in college, biology major Grant Jerabek is already taking steps to improve modern cancer technologies. Jerabek's internship this summer with San Diego, California-based Biocept Inc. takes him into the lab, immersing him in experiments that can be used to develop enhancements for the company's medical technology.
Biocept, a molecular oncology diagnostics company, focuses on biomarker analysis in cancer patients. Its research has resulted in a unique method for liquid biopsy.
"They've developed a microfluidic device that captures circulating tumor cells in human blood," Jerabek said. "It's nowhere near as invasive as normal tissue biopsy. A person with cancer can send in their blood, and Biocept runs tests on it using different antibodies to capture the tumor cells within the device they created."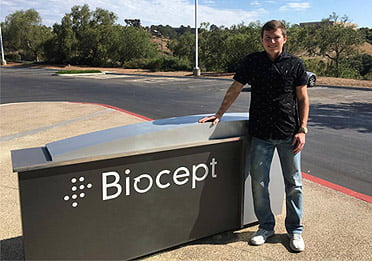 The technology helps provide a diagnosis for the patient and informs the patient's physician about the status of the disease. It also serves as an alternative biopsy method for patients who cannot undergo a traditional tissue biopsy.
Jerabek's internship is based in research and development, and he is completing several research projects to uncover potential means of improving Biocept's products.  
"I run one to two experiments a week, collect the data and present it to my boss. Then, we think of the best way to proceed in developing the company's technology further," he said. "One way we've tried to improve the process is by spiking cancer cells directly into the microfluidic device, picking a variable and seeing how much this variable impacted our percent of captured cancer cells."   
ColLABoration at Biocept
Through his lab work, the St. Paul, Nebraska native has grown close with the staff at Biocept. Jerabek said the size and atmosphere reminds him of Hastings College, and he attributes part of his success at Biocept to its similarity to the college.
"I really think the small school atmosphere helps me here because at Hastings College, we collaborate all the time about different ideas and concepts," Jerabek said. "I work with about 20 other people at Biocept, so it is a lot like HC in the fact that everyone knows each other."
Jerabek contributes to the team by setting up experiments and shadowing the other scientists. His experience in the lab at Hastings College prepared him to hold his own amongst his professional counterparts.
"The experiments we run are easy for me to understand because I've taken a few chemistry classes with labs. Already knowing proper lab etiquette and how to do simple tasks, like dilutions, is very helpful," he said.
Connecting with careers and colleagues
Interning with Biocept gives Jerabek a firsthand glimpse of a career in research. For him, the summer was one way to inform his future career choice.
"The main goal of the summer was for me to get out there, make some connections and figure out how much I like a job like this," he said. "It's helped me to see the options for a possible career."
Biocept equips Jerabek with a new set of transferable skills. Whether he chooses to pursue career opportunities in research or otherwise, the practical application of his biology education allows him to explore the real-world use of his future degree.
Moreover, it highlights his professional networking skills. In-lab collaboration connects him with a group of researchers he can now call his colleagues.
"This is the first job I've had where I didn't know a single person within the company, and now I know them quite well. It's nice to have gained the confidence to know I am will be able to handle a similar situation when I graduate from HC," Jerabek said.
Until that time, Jerabek continues his studies at Hastings College, where his biology courses — paired with this summer's contributions to cancer research — can prepare him to leave his own mark on the scientific community.
By Mallory Gruben, a senior from Eckley, Colorado, majoring in journalism