The denizens of Nature's Educators, a nonprofit animal sanctuary and education center founded by Hastings College alumna Devin (Paszek) Jaffe '09 in Sedalia, Colorado, are a wild bunch with poignant personal stories.
Calypso, a bald eagle, was found in the North Carolina wilderness with vision problems and a droopy wing. Brizo, an osprey, was discovered sitting on the ground unable to fly because of wing deformities. Selene, a saw-whet owl, lost an eye after being hit by a car. Monty, a Burmese python, was relinquished by his owner and needed a home. More than 100 critters ranging from rabbits and raptors to Gila monsters, scorpions, tarantulas and hissing cockroaches complete the motley crew.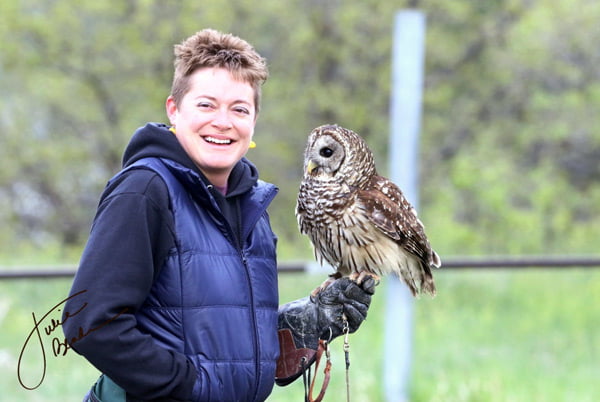 Despite their humble beginnings, the creatures serve a noble purpose. They are "animal ambassadors," as Jaffe calls them, who accompany her and 20 volunteers on more than 900 outreach visits to schools, museums, state parks, libraries and other venues each year.
"Our goal is to inspire awe in hopes of performing conservation," said Jaffe, who graduated as Hastings College's first wildlife biology major in 2009. "We try to help people get over their fears, learn how to identify wildlife, and understand habitat conservation and ways of protecting wildlife in wild places."
Jaffe and her team reach people of all ages from preschoolers to residents of assisted living centers. With colorful names like "Falcon Frenzy" and "Radical Reptiles," the programs allow close-up interactions between animal ambassadors and audience members.
Jaffe's own passion for wildlife began with a childhood 4-H project in her native Colorado.
"Level six of the wildlife project in 4-H focused on birds. I studied a song bird and a raptor," Jaffe said. "I went to our local raptor center, interviewed the director and took pictures of the birds. That's how I got interested in it."
Nature's Educators has strong Hastings College connections with three alumni among Jaffe's volunteers: her husband, Evan Jaffe '08; mother, Julie (McCorkindale) Paszek '81; and sister-in-law, Erica Jaffe '05.
Jaffe credits Hastings College with helping her pursue her passion for animals through a major in wildlife biology and a personalized program in raptor morphology.
"The biology professors I had at Hastings College were incredible," she said. "I still keep in touch with them, and several have been out to visit our facility."
As a student, Jaffe received hands-on experience all four years during internships at places like Fontenelle Forest Raptor Recovery and the Bureau of Land Management. During an internship at the Hastings Museum, she revamped the raptor exhibit with new signage and range maps.
Jaffe pays it forward by hosting Hastings College wildlife biology interns at her Colorado facilities. She also visits the Morrison-Reeves Science Center during Earth Week each spring to meet with biology majors and show off her animal ambassadors.
When she's not on the road educating the public about wildlife and habitat conservation, Jaffe spends quality time with the creatures that help fulfill her organization's mission.
"I love animal care," she said. "That's what I do from about 6 o'clock in the morning to 8 o'clock at night."
By Judee Konen '85, Associate Vice President for College Advancement