Briget Heidmous began the 2017 holiday season by selling all of her belongings, devoting herself to minimalist living and purchasing a one-way ticket west.
The 2013 Hastings College graduate set out to circumvent the globe on a self-orchestrated, research trip of art, artistic institutions and culture. The six-month journey would eventually lead Heidmous to an artist residency at the Burren College of Art in Ballyvaughan, Ireland.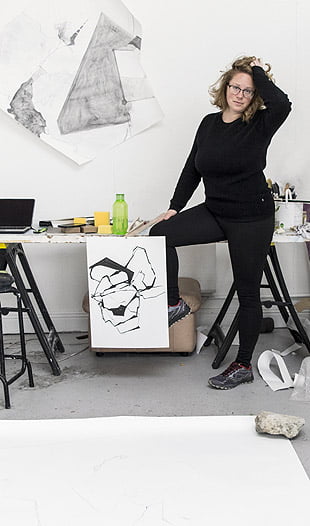 "I had been working as the assistant curator for Colorado College, and a merger of the college and the Colorado Springs Fine Arts Center created an opportunity for me to do something new. I decided I wanted to leave Colorado Springs to research art internationally," she said.
Heidmous' journey began with a flight from her hometown in Colorado Springs, Colorado, to California, then Hawaii. From Hawaii, she traveled to South Korea, where she spent time developing work and exploring Korean art and culture first-hand.
"For me, South Korea was about exploration. I visited museums and art galleries, and I spent most of my time painting and drawing," she said. "I wanted to immerse myself in the art culture and live the experience."
Later, she traveled to Europe, stopping in Italy, France, England and Ireland. Along the way, she visited renowned art museums, including the Centre Pompidou in Paris, France — one of her personal favorites.
The international trip concluded on the Emerald Isle. Although she wasn't back in Colorado yet, the destination offered a distinct familiarity for Heidmous.
"In 2010 I lived in Ireland for one month as part of the Hastings College Irish Fellowship. The research abroad program fosters an investigation of place, and that mission took hold in me," she said. "Returning to Ireland was a little like returning home."
A promise to return
Heidmous first set foot on the grounds of Burren College of Art her junior year at Hastings College. It was her first day in the country as an Irish Fellow, and the group stopped in Ballyvaughan as part of a sightseeing trip.
"The sightseeing was really an attempt to prevent the jet lag of dropping into the new timezone," she said. "I was enrolled in a drawing class that semester and I needed materials so I could work on my assignments while I was in Ireland. The Burren College of Art was the only place I could get my supplies, so we included it as a stop."
The college presented a specific atmosphere to Heidmous, unlike anything she had experienced before. The institution offers an alternative approach to fine art education, employing a philosophy focused on an immersive art research environment separated from the commercial art society.
Heidmous connected with the campus and its mission almost immediately.
"I was standing in the courtyard, and I snapped a picture and promised myself I would return to this place," Heidmous said. "It's strange to keep a promise like that to yourself, but almost eight years later, my spontaneous six-month trip around the world ended up fulfilling that promise."
Making new work
The residency allowed Heidmous to further develop an idea she began working on the previous summer. She left Ireland with the foundation for new installations exploring the conflict between being a minimalist and a maker.
"As an artist, it's part of who I am to create things," Heidmous said. "That's a challenge for me because I am also a minimalist. If I don't want to own a lot, why do I keep making things that I have to take care of?"
While immersed in the natural Irish environment, Heidmous began to use her artwork to confront that question. The project she started in Ireland investigates how to create a full-blown exhibition without leaving behind a major ecological footprint.
"You make a painting, but then you have to ship it to the gallery to put it on exhibition. For that you need a big truck that burns fuel and extra packaging materials to keep the painting safe," she said. "These installations attempt to minimize that materialistic impact, while still being able to fill a space."  
Additionally, the project taps into Heidmous' minimalistic philosophy by repurposing the materials she uses to create the artwork.
"The byproduct of one thing becomes the makeup of another," she said.
All of the elements of the exhibition are optimally packed, and her goal is to be able to send each installation using as few resources as the work affords. The installations include drawings, paintings, field notes, documentation of Heidmous' artistic process and all packaging materials used for shipping.
And now, Heidmous has returned to the States, where she continues to develop her practice. She is currently working on "Mapping Project," a collaborative effort with poet Jessy Randall in which Randall writes and Heidmous draws.
Selections of "Mapping Project" were published this summer in two scholarly journals, "Faultline," published by the University of California, Irvine, and "disClosure" published by the University of Kentucky.
By Mallory Gruben '18