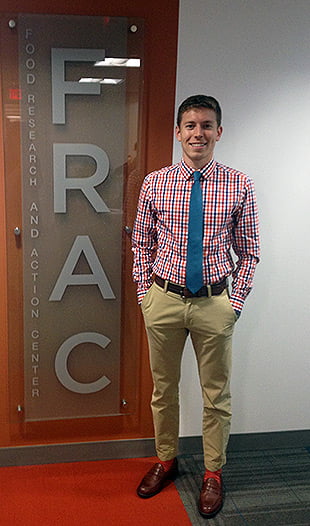 Fifth year student Nick Masada from Lincoln, Neb., has spent the last three summers building on career experience for his future. From interning as an AmeriCorps VISTA Volunteer for Lincoln Public Schools Federal Programs, the Children's Defense Fund in Washington, D.C., and Food Research & Action Center (FRAC), he has worked with young students through school breakfast programs, teaching, camp counseling and more.
In order to attain these internship opportunities, Masada said Kim Graviette, Director of Career Services, spent a lot of time with him going over resumes and cover letters. Professors at Hastings have also been willing to help.
"I really found that Hastings professors, both within the education department and the political science department, are so open to what you want to do. There are no closed doors," Masada said.
With majors in Elementary Education and Political Science, Masada's goal is to get into education policy, and in order to reach that goal he needs experience.
"What I would like to do is teach for five to 10 years and then join administration at one point, hopefully become a principal, and from there look at entering a think tank that's education-based," said Masada. "From people I talk to out in Washington, that's something you just seek out when you have a significant amount of experience."
One of the greatest lessons Masada learned while interning was realizing things were not out of his ability.
"Don't think that because you go to a small school like Hastings that you have some sort of disadvantage," said Masada. More than 100 people applied for FRAC and Masada said that is a good example of how well Hastings has prepared him. "Don't think that you don't have a shot."
The Knappenberger Fund Travel Grant helped support Masada's FRAC internship.
Masada said the second most important thing about internships is they are what you make them. Presented with a networking opportunity, he took the chance and introduced himself to new people in order to make connections. He said he even met someone from the National Education Assn. and she was originally from Franklin, Neb.
"The best experiences that I've had over the past two summers out in Washington were ones I made myself," he said. "When you already have an internship and you're out there, you have to make it special."
With Hastings classes under his belt, and a list of accomplished internships, Masada has been prepared for this spring: student-teaching in Omaha. At the moment, he said he is unsure of where he is teaching, but he knows it will be an elementary school based on his major. A more diverse, lower income school is where he said he definitely wants to be.
By Amanda Miller, a junior from Woodland Park, Colo, majoring in Journalism