J-Term allows students to experience different classes and situations during the month of January that they wouldn't be able to in a normal semester. For senior Michaela Vadeboncoeur, an Exercise Science major of Broomfield, Colorado, that meant completing an internship at the YMCA in Hastings, Nebraska.
"I knew I wanted to do an internship during J-Term since I completed my required courses, so after talking with Kim Graviette from career services, we went to the YMCA to talk with Erika about interning with her," said Vadeboncoeur.  "She said that she would love to have an intern and it all unfolded from there!"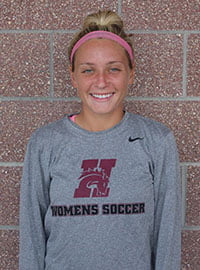 As an exercise science major at Hastings College, completing an internship at the YMCA was a natural next step for Vadeboncoeur. She interned under Erika Knott, the wellness director, and spent a lot of her time organizing events, observing meetings and classes, and even got to teach her own water tabata class. Her time at the YMCA solidified that she was on the right path and furthered her passion for what she does.
Vadeboncoeur's dream is to become a personal trainer and she learned exactly what that meant when she shadowed Anna, one of the YMCA's personal trainers. "She was so outgoing and motivational to her clients," said Vadeboncoeur. "She created a fun environment while pushing these people to their limits as best as she could each day. She is an inspiration to me."
Learning in and out of the classroom
Vadeboncoeur's time at Hastings College has only made her dream more attainable. By taking a variety of classes outside her major through the liberal arts program as well as all the required classes, and having the opportunity to complete internships, she is more prepared for life after graduation.
"Hastings College prepared me for this internship by teaching me a lot about being a hard-working and persistent student," said Vadeboncoeur.  "I've had classes that have been challenging and classes that have been easy, but either way I learned to do my best and set high, but attainable and realistic goals for myself as a student and as a person in all aspects of my life."
Besides attending classes at Hastings College, Vadeboncoeur has been an active part of the women's soccer team during her four years at school and has taken on her coach's mindset of 'there is never an off season'. She's currently studying for the Common Proficiency Test and hopes to take it over the coming summer. Passing this exam will allow her to take the next exam, the Intermediate Professional Competence Course, to continue her journey to becoming a personal trainer.
"I want to be a personal trainer because I love working directly with clients and creating plans to help them become healthier and stronger individuals based on their personal goals," said Vadeboncoeur. "I want to be someone who can motivate anyone to exercise and improve their physical fitness level no matter what level they are currently at because you can always be better than you are. 80 percent of your workout is simply just showing up!"
By Jennifer Schmidt, a senior from Cozad, Nebraska, majoring in Journalism.