Senior biochemistry major Maddy Smith spent the 2017 January Term learning what it takes to be a physician's assistant (PA) by spending every day job shadowing at Carolinas Medical Center in Charlotte, North Carolina.   
Smith, who is from Littleton, Colorado, spent every day of the experience in the hospital or in an outpatient setting. She began by shadowing a nephrologist and learning about dialysis, then worked her way to the ICU; the ER; and, finally, to her favorite place: the operating room.
In the OR she had the opportunity to scrub in on transplants and organ procurements, as well as observe surgeries in other areas. Her main mentors during her experience were surgical PAs, and she soon realized this was the career path she wanted to take.
"I felt my energy change when I was in the hospital and I just never got tired," Smith said. "If there was a case going in the OR I wanted to see it, if there was a patient being seen I wanted to go with. The experiences I had were just indescribable."
Smith's experience confirmed her passion to be a PA, and feels she is prepared to take on her career.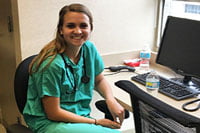 "It gave me an upper hand to be able to see so many surgeries and patients because it gave me a taste of what my job might be like in one of those positions when some people go into it not knowing what it might feel like." Smith said.
Smith said her major in biochemistry and all her classes helped prepare her for the long days in her internship. She said her biochemistry classes pushed her to study long hours and cover large amounts of of material, which helped her keep up with hospital terms and comprehend what she had learned throughout the day.
Because of Hastings College's small campus atmosphere, Smith was able to quickly adapt to the hospital's environment.
"I think part of the reason why I fit in at the hospital was because of the environment at Hastings. You have to work with people, be nice to people and everyone knows you; it's a small community, like a community within a hospital, so I think that helped me going in," said Smith.
Smith said she plans to keep in touch with those she worked with at the hospital, and will be applying to PA schools this spring. Smith said she is excited to move on to the next step in life where she can focus on her career and her passion to help people.
By Dany Cook, a junior from Fairfield, California, majoring in journalism and broadcasting