While on the search for summer internship positions, senior broadcasting and journalism double major Russell Heitmann sent out feelers to several media organizations. After weeks of skimming through available internships and submitting resumes to prospective employers, he was accepted by two different media-based organizations. And with that, Heitmann dove head first into the professional world of media.
On the air
The first internship Heitmann accepted opened the door to the medium of radio with a position on Sports Radio 810 WHB, which covers the Kansas City market. There, he worked with the popular radio show, "The Program," shadowing under radio host Soren Petro and station engineer Rob Brenton to learn what running a sports program on the radio is really like.
"To be able to work with the largest all-sports AM radio stations in the country — a station that has a national footprint and is paired with ESPN — have it be a good experience was great," Heitmann said.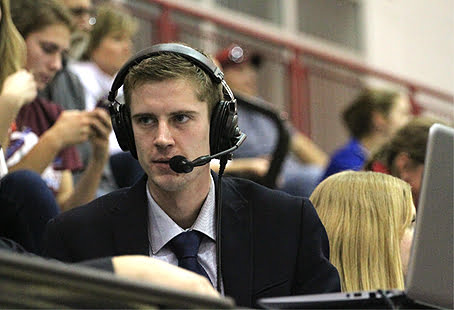 Heitmann started the summer with basic responsibilities that included assisting Brenton in the control room and conducting research for daily program topics. By the end of this three month stay, Heitmann had appeared on air in several "Intern Jeopardy" segments, as well as hosted his own radio segment.
"I had to spend two minutes giving my take on certain sports issues, and then the host of the show would pretend to be callers and would field questions to me that I would have to answer as though I was on air listening to callers," he said. "It was neat to be able to listen back to myself and be able to say, 'okay, this is what I need to work on.'"
New view of media
Heitmann's second internship arose from family connections to the University of Kansas. He submitted a resume to the associate athletic director at KU upon the recommendation of his uncle, which would lead to a position as an intern with the university's athletic department.
"They had already hired all of their full-time interns, but they liked my resume and skills set, so they took me on to use me as an extra hand on staff," Heitmann said.
Heitmann served the KU Athletic Department by helping wherever he was most needed. He gained an eclectic set of experiences ranging from editing promotional videos to lending his voice to the official KU pronunciation guide. For him, it widened his view of media.
"My internship at KU was still journalism, but it was more similar to the promotional side of things," Heitmann said. "It was a neat thing to have a different take on sports and college athletics, especially at a bigger institution."
A hands-on collegiate experience
Though relatively new to the professional world when starting his summer internships, Heitmann was no stranger to media. His relationship with media began early on in his academic career at Hastings College. He was initially unsure of what he wanted his education to focus on, but a J-Term course in sports broadcasting drew him in.
"Once I started doing the media stuff during J-Term my freshmen year, it was all hands on deck. I've been going strong with it ever since then," Heitmann said.
Heitmann went on to amass nearly three years of collegiate experience by working with HC Media, the student media organization at the College.
"One of the things I constantly praise about Hastings College is the ability to dive in and get hands-on experience, regardless of your major," Heitmann said. "You don't have to wait two years of theory and application before you actually put your hands on it; you're going to be doing it right away."
Heitmann's opportunity for hands-on experience was no different than he describes for the average Hastings College student. By the end of his freshman year he was a regular staff writer for the Hastings College Collegian, a sports commentator for the College's radio station and a crew member on the student team that helped broadcast the National Association of Collegiate Athletics Women's Basketball National Tournament in Sioux City, Iowa. He says the amount of experience he gained during his time at Hastings College aptly prepared him to work in two distinct mediums during his summer internships.
"I'm not pigeon-holed into working in only one medium, and that's due in part to my education at Hastings College," Heitmann said. "To do two internships that are very separate, but still similar, continues in the mindset that I can end up in multiple places because of my Hastings College education and summer internship experience."
Now equipped with his broad range of media skills and newfound connections within the field of media, Heitmann plans to move seamlessly into a professional workplace after graduating in May 2017. His ultimate goal is to call basketball for a living, but he isn't afraid of exploring any number of different opportunities.
"I'm a man of many hats: I'm able to write, do video and do audio," Heitmann said. "Because of that, I can go in a lot of different directions."
By Mallory Gruben, a junior from Eckley, Colorado, majoring in journalism