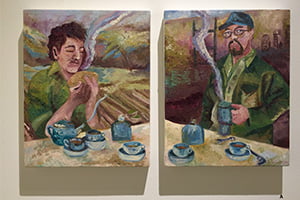 "The inspiration for my painting came from my family," Katherine Arias, an art major from Lexington, Nebraska said of her work, "Mi Familia. 1 — Diptych." 
"This was the first of my Junior Thesis and my goal with it was to make work showing how important my family was to me and do it in a really traditional, impressionist style to elevate them and make them a little more important and a little more in line with history."
Arias took the time to research impressionist painters and their work throughout history to understand their techniques and methods. She created her series of paintings by using photographs of her family and then creating a new environment for them.
She said, "This one was influenced by Mary Cassatt, that's why there's a tea set—it was kind of like my nod to history."
The painting earned Best of Show in the 2016 Hastings College All-Student Show. 
On January 7, students, staff, faculty and community members attended the opening of the 2016 All-Student Show in the Art Center to celebrate and admire artwork submitted by Hastings College students like Arias. Entries from both art and non-art majors were accepted, showing the wide variety of work students offer. Several mediums are represented in the show, including etchings, paintings, prints, ceramic sculptures and glass sculptures.
Todd Brown and Cody Carson Brown, artists from Hastings, Nebraska, served as judges for the competitive show. They selected winners based on what they considered the best two-dimensional work, the best three-dimensional work and the best in show.
In addition to Arias' honors, Christopher Leet from Hastings, Nebraska, earned best 2D work with his piece "Battle of Venus," made with acrylic, charcoal and ink while the best 3D work award went to Kyle Beaman from Grand Island, Nebraska, with his piece "The Idea Becomes Real," a wood and glass sculpture.
At the opening, Brown explained to the crowd that came to the opening of the gallery that it was difficult for he and Carson Brown to narrow their favorites to three winners, since they saw a lot of potential in all the artwork they judged.
Although the competition was tough, Turner McGehee, Professor of Art, said, "Regardless of who wins, what's important at the end of the day is the art, isn't it?"
Written by Amanda Miller, a senior journalism major from Woodland Park, Colorado