As Public Information Officer for the Nebraska Unicameral, Nicki (Kunasek) Behmer '07 works on tasks such as web streaming senate hearings and floor debate, designing publications and web pages and pulling together podcasts.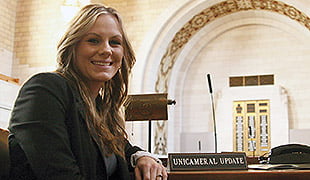 "Not everyone has the luxury of attending committee hearings or floor debate at the Capitol, so it is especially important that those citizens can stay informed through Internet streaming, email, social networking sites, news sites and feeds," Behmer, a Hastings, Neb., native, said.
Behmer started her college career at the University of Nebraska-Lincoln as a Broadcast Journalism major. Impressed with the individual guidance her friends at Hastings College were receiving from professors and staff, she came home.
When the self-described political junkie, who was then working as a graphic designer, saw the listing for the Public Information Officer position, she "wasn't really in search of another position at that moment, but I was in search of taking on more responsibilities that extended beyond design."
"What more could I ask for? I found a job that included journalism, design and politics," she said.
"What goes on in the Legislature significantly impacts citizens, yet the process seems to be somewhat overlooked," said Behmer. "I would argue that nationwide Nebraska has one of the most accessible branches of government. Why not take advantage of that?"