Haley Sandoe '15 wasn't certain a career in research was for her. Dr. Neil Heckman, Chair of the Hastings College Chemistry Department, encouraged her to explore the possibility through a Research Experience for Undergraduates (REU). These summer programs allow students to get real-world experience in laboratories at institutions with graduate programs.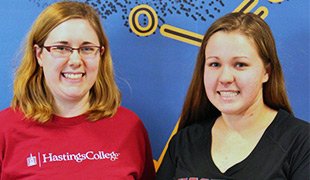 During Summer 2013, Haley, who is from Juniata, Neb., and Heidi Roth '15, a Lakewood, Colo., native, were among several Hastings College students who earned REU positions. They conducted research, networked with professors who could serve as their mentors in doctorate programs, and attended sessions on preparing graduate school applications.
Although she is a chemistry major, Haley's REU at Coe College in Cedar Rapids, Iowa, with Dr. Paul Storer focused on treatment of astrocytes with estrogen to determine the mechanism of neuroprotective effects.
"One of my favorite memories about this experience was seeing the cells we had stained through immunocytochemistry on Coe College's epifluorescent microscope," Haley said. "I was breathless at how beautiful our cells were and how each of the different colors we had stained them with meant something specific for our research on astrocytes cells."
Heidi, who completed her REU at the University of Nebraska-Lincoln's Chemistry Department with Dr. Eric D. Dodds, enjoyed sharing the results of her REU work. Her project was entitled "The Role of Mobile Proteins in Collision-Induced Dissociation of a Model Glycopeptide."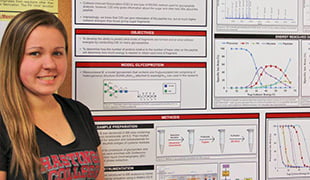 After presenting her results to the UNL Chemistry Department, she had the opportunity to speak before a broader audience of researchers.
"All my hard work had paid off for [that] moment, and I finally could show everyone all the work and research I performed [that] summer," Heidi said.    
For both young women, the REUs reinforced their current career plans. Heidi (left), whose presentation earned her a travel grant to speak at the National American Chemistry Society conference in March 2014, plans to pursue her doctorate and become a chemistry professor.
 Haley learned lab life truly is for her and is grateful Dr. Heckman encouraged her to apply for the REU.
"It showed me that there is no other place I would rather be than running experiments all day in a lab," she said. "Every day I would wake up looking forward to the results we would get that day and what it would mean for our overall research."