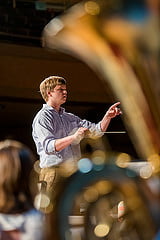 "I owe all my talents and musicality to the people that have surrounded me, pushed me to work hard, and guided me through all the struggles," said Michael Hull, a senior from Hastings, Nebraska.
And Hull has encountered struggles as he's worked toward his Bachelor of Music in trumpet performance and music education.
"After my sophomore year, I had legitimate questions about my career. Will I make it as a performer? Do I really enjoy teaching? Am I going to be good enough for students/consumers?" Hull said.
Because the Hastings College Department of Music is like a family, several professors took Hull aside to ask how he was doing.
"The faculty are very in tune with how their students are, not only musically and academically but also emotionally," said Hull. "These were faculty who I didn't even have daily contact with, so it was amazing that they were observant enough – and cared enough – to help me in a time of need."
With renewed focus and drive, Hull dove into playing with every ensemble he could join.
"As soon as you come to Hastings College, you can become a key player in music," said Hull. "You have the chance to make wonderful music with very talented individuals who can help you develop immensely."
Hull admits to loving pop music including Bruno Mars and Justin Timberlake, but his first love is jazz.
"I really enjoy listening and playing jazz music, as I love being able to (per the words of Dr. Marc LaChance) 'compose in real time' with the use of improvisation," he explained.
Upon graduation, Hull plans to earn his Master of Music in Trumpet Performance with an eye toward becoming an orchestral trumpet player and teaching private trumpet lessons.