In the basement of McCormick Hall on the Hastings College campus, a new book binding machine rests in the corner. Students send thousands of pages through the binder to be glued, bound and creased. After a precise trim, the newly completed books are added to the shelf.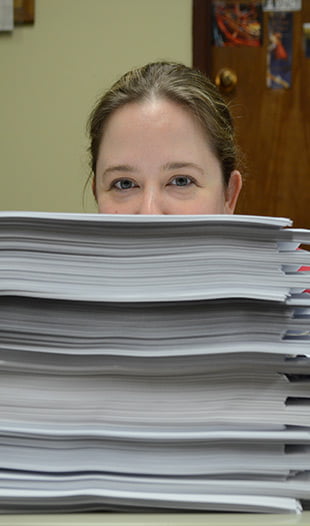 This spring, with the launch of the Hastings College Press, Dr. Patricia Oman, Assistant Professor of English, and current students brought a new era to Hastings College: the distribution of books that have been typeset, printed and bound by students. All are for sale online in both print and ebook form at hastings.edu/HCPress.
January-term (J-term) 2015 marked the beginning of the Hastings College Press. Drs. Oman and Emily Bennett, Instructor of Philosophy and Religion, led a class geared towards publishing books. "Students learned about page layout and proofreading, using InDesign and advanced features of Microsoft Word," said Oman. The 10 students in the J-term class worked on 12 projects and completed seven, including the 2015–16 INT reader for first-year students titled How We See.
"We focus on reprinting forgotten regional texts that deserve to be brought back," said Oman. One of the most recent projects is a novel by Mattie Griffith that was originally serialized in the National Anti-Slavery Standard in 1859–1860, titled Madge Vertner. The HC Press edition, which features an introduction by Dr. Holly Kent, Assistant Professor of History at the University of Illinois—Springfield, will be the first time the story has ever been printed in novel form.
The Press also recently published John Herrmann's 1926 novel What Happens, which has never been released in the United States.
"This is actually the first time that this novel has been published in the United States," said Dr. Oman. "Herrmann lived in Paris and published there, but when he tried to import the book to the United States, it was seized by Customs for being obscene. Today the novel would not be considered obscene."
Oman added, "We're lucky to be able to include an introduction by Dr. Sara Kosiba that explains why the novel was so controversial and why it was essentially banned in the United States." Dr. Kosiba, who is Associate Professor of English at Troy University in Montgomery, Alabama, is currently writing a biography of Herrmann.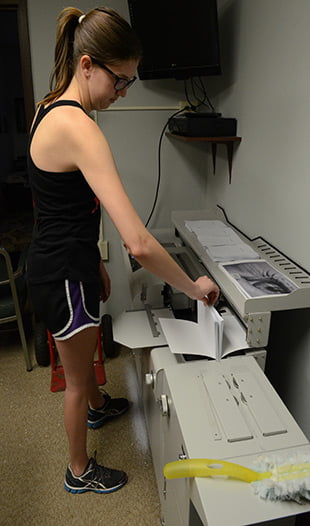 By publishing these works, Oman said, HC Press can give scholars the opportunity to read these works with students in the classroom, but the books are also available to anyone who is interested.
"Projects like this really show the diversity of Hastings and how one person can start something and everything can get accomplished with the help of many different departments," said Emily Case '14, cover designer for some of the books.  "I wanted to show my respect for this program. It really illustrates the 'Hastings Does That' motto of the college because it shows initiative to come up with these programs and to just go with it. I'm excited to see it grow and to get the books I designed."
In order to make it clear that the books published this spring were part of a series called "Forgotten Regional Texts," Oman asked Case to design the covers in a way to get that message across.
Case, who graduated with a degree in English, worked with Oman to come up with cover ideas for the books. After long sessions and many email conversations, Case successfully finished the project. "A lot of the books are complex and have a lot of history so I made the covers of the books unique but aesthetically similar to show that they are part of a series," she said.
The cover for the INT reader, however, has a different design. "The INT theme is about what we see," said Case. "I chose the image of an eye and made it greyscale. The message is that there are many perceptions and a liberal arts education will help expand our preconceived notions of the world."
Emilie Barnes, a sophomore at Hastings College, was one of the students in the J-term class. She said it was her first time being involved in publishing books. "The J-term class sounded interesting so I decided to go for it because maybe that was something I would want to do and it ended up being a great decision," Barnes said. She also said she was able to learn more about organization, time management and how to help manage a team.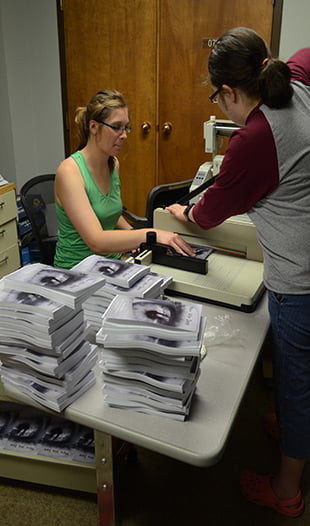 In fact, Barnes enjoyed her experience so much that she has applied for an internship with the Press for this fall. She said the internship will encompass copy-editing and proofreading, going through manuscripts and looking at introductions from a variety of scholars. Barnes hopes to work with people who have requests and to take orders as well as suggestions for new texts to be published in the future.
"I'm just really excited to see how the internship goes," said Barnes. "Hopefully if it goes well, I might put together an Academic Showcase [student presentation] to talk about it because I think that would be a good promotional thing to help get more people interested because there's plenty of work to be done, and we keep starting new projects, too. I know Dr. Oman has a whole schedule that she wants to keep producing more and more manuscripts, which I think is pretty awesome."
With no background experience in publishing books, Barnes said she didn't really know what to expect. "We just started out with learning how pages should be set up, what sort of things you should look for when you're proofreading, how to make proper editing marks, what should be questioned and what shouldn't," she said.
After becoming more active in this field, Barnes said she hopes to add to her English major and double emphasis in writing and literature by working towards a publishing minor, as well.
As far as the future goes, the Hastings College Press will continue publishing works. This fall, four new books will be released. "I can't believe we've gotten this far in such a short amount of time," said Oman. "Our goal is to become successful enough to provide scholarship opportunities for students who are interested in publishing as a career."
By Amanda Miller, a senior from Woodland Park, Colorado majoring in journalism