Rebecca Holcomb can conjure a new world with a piece of fabric. The senior theatre major from Burr Ridge, Illinois, is well-versed in sewing, hand stitching, hemming and clothing alterations. After amassing almost six years of experience working in theatrical costume design and production, she can transform a pattern into a garment to fit any era, personality or fictional dimension.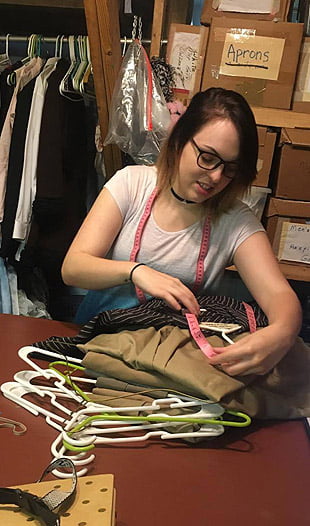 As head designer in the Hastings College Costume Shop, which is embedded in the Theatre Department, Holcomb has crafted clothing for eccentric French women in "The Madwoman of Chaillot," Christmas elves in "Glimmer, The Elf" and noble knights in "Spamalot the Musical." Her most recent work, a wardrobe constructed almost entirely by hand, graced the stage for the Theatre Department's production of "Eurydice."
This summer, Holcomb tested her skills with an 11-week internship at the Theatre Barn in New Lebanon, New York.
In her role as the Theatre Barn's assistant costumer, Holcomb helped design and construct the wardrobe for six summer stock productions. She also gained experience in costume fitting, shoe repair and hair and make-up styling, among other areas of costuming.  
One wardrobe a week
Although Holcomb is no stranger to working on theatrical productions — her resume experience extends back to 2011, and she's helped with almost every Hastings College show during her collegiate career — the demanding schedule at the Theatre Barn presented a new challenge.  
At Hastings College, cast and crew have nearly 45 days to organize a production. At the Theatre Barn, she had less than two weeks.
"The Theatre Barn is a summer stock style of theater, and every two weeks it produces a new show," Holcomb said. "That means there is 11 to 14 days of pre-production for each show. The costumes have to be ready to wear by the dress rehearsals, so we have about nine to 12 days to create a full wardrobe."
In that time, Holcomb and her colleagues had to fit each actor, design the wardrobe, cut each pattern and hand stitch any special details. With an entirely new cast each show, there was no shortage of tasks for the costume shop throughout the summer.
Fostering independence with mentorships
Much like the wardrobes she creates for the stage, Holcomb created her own path to her fast-paced internship at the Theatre Barn. She applied to more than 30 positions prior to the summer, completing most of the applications on her own.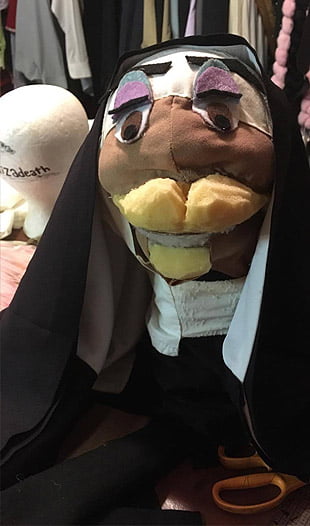 "Right after J-Term, (Hastings College professor) Jim Fritzler and I start telling students to look for summer work. We even post opening in the theatre of opportunities we feel might benefit our advisees," said Annette Vargas, assistant professor of theater and Holcomb's faculty advisor. "Rebecca took it one step further. She contacted people she's worked with previously to ask for their advice on where to apply."
Holcomb said independence is an important skill she's learned from her Hastings College mentor. Instead of involving herself directly with a student's professional endeavors, Vargas offers guidance from afar. While she might suggest a student pursue a certain path, she leaves it up to each individual to complete their own work, make their own decisions and ultimately create their own successes.
"As an advisor, Annette wants us to have a hands-on experience, and she knows that for us to do that, she has to practice hands-off teaching," Holcomb said. "She isn't going to fill out the application for you or hold your hand along the way, but she will be there to give you advice and help with whatever you need."
Vargas' hands-off mentorship paid off for Holcomb, who was offered seven different internships after her first round submitting applications independently. From there, Holcomb sought Vargas' advice in selecting the internship that complemented her skills and interests the most.
Holcomb settled on the Theater Barn because it offered ample opportunity to explore the different aspects of costuming, her area of interest.
"We recognized that Rebecca would be able to work in all three areas of costuming at the Theatre Barn. This summer, she experienced backstage wardrobing during productions, shadowed the costume designers as they fit each actor and sketched the costume designs and worked alongside the production staff and builders as they actually constructed the costumes," Vargas said. "She also was head of the hair and makeup department!"
Refined focus for the future
Holcomb's full taste of the costuming industry allowed her to explore the two primary branches of costuming: design and production.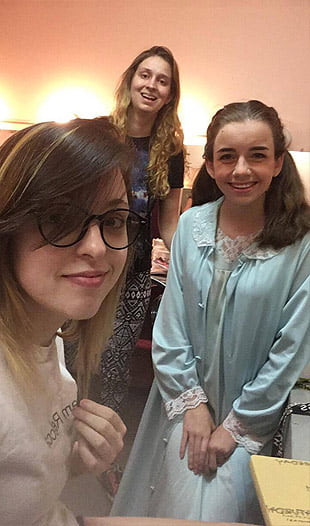 Costume designers are responsible for sketching the visual representations of the costumes. The designers determine what the wardrobe for a show should look like. Costume producers construct a show's costumes based off the designer's vision. In the theatre, they are known as "builders," because they build the physical wardrobe that is displayed on stage.
Holcomb's experience at the Theatre Barn directed her focus to costume production. While she already knew she enjoyed constructing costumes, the summer solidified production as a career path.
"This summer at the Theatre Barn helped me realize that building is my favorite part of costuming," Holcomb said. "I love nothing more than seeing an actor put on a costume that I made, and watching the character burst into life."
To act upon her refined focus for her future, Holcomb has started applying for graduate programs in costume production. Although these programs often suggest students gain professional experience in the field before applying, Vargas said she believes Holcomb is an eligible candidate.
"Her dreams and aspirations are highly focused, and she can follow through with what she says she can do. She's ready for that next step in her professional career," Vargas said. "If she lets her work and experience show, she will build a successful future for herself doing something she loves."
By Mallory Gruben, a senior from Eckley, Colorado, majoring in journalism