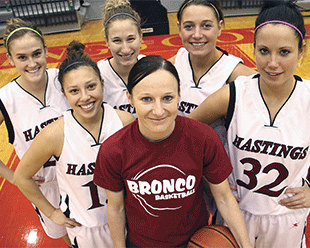 Carrie Hofstetter '04 played her prep career at Sandy Creek High School (Neb.) helping her school to four state titles in girls basketball, while never losing a single game.
She compiled an impressive career at Hastings College as well. She was a member of two National Championship teams and helped the program to a record of 121-22 in her four years. She was a First Team All-Conference selection in 2003 and 2004 and an NAIA National All-Tournament Team selection for three years from 2002 to 2004.
"My whole experience within those four years at HC, being a part of these teams that really were accomplishing amazing things – we were really only just aware of what we were doing on the basketball court," Hofstetter said. "Every day in practice we would compete with each other and make each other better. We would battle, be aggressive and be physical with each other, but at the end of the day we would step off the court and it was left there. It was really just a perfect storm of very talented players who were very selfless and willing to really contribute to something bigger than themselves."
As a senior, Hofstetter was named Great Plains Athletic Conference Defensive Player of the Year and an NAIA First Team All-American in 2004. She was also named the Fellowship of Christian Athletes' Central Nebraska Athlete of the Year. She was a member of the Omaha World Herald All-Nebraska Team, and she received the NAIA Champions of Character Award. She still owns school records for career assists and steals and was elected to the Hastings College Athletic Hall of Fame.
"Being at Hastings College was an amazing experience from a lot of perspectives," Hofstetter said. "I grew as a person here because of the professors, because of the way they challenged us, and because of the culture and the environment. Coach Ken Rhodus taught me a lot about life and how you treat people, and Coach Tony Hobson taught us a lot about competing and just the X's and O's of basketball. I had the best of both worlds in them. It took me leaving HC to realize how much I loved it and how much I wanted to be back."
After graduating, Hofstetter served as Assistant Women's Basketball Coach for four years at Hastings College under former HC Head Coach Tony Hobson, helping the Broncos to a national title during the 2005-06 season. She continued her career for four more years under Hobson at Fort Hays State University then returned to Hastings College in 2011 at the helm of the HC women's basketball program.
"I enjoyed my time at Fort Hays, but I really missed Hastings College and the things that we stand for; the culture that's here, the community, the women's basketball program and the tradition of excellence and success that we've had here. I missed having that pride and ownership for the program," she said. "Now being back here, it's still surreal to me. I feel like the campus itself is evolving, and the people here are bringing new and fresh ideas. And that has empowered me to want to continue to grow as a woman in sports."