"We can start in one direction and then it breaks off into a million different ones," said Rebecca Holcomb, describing what it's like to work on a research project as a sophomore at Hastings College. She, just like other history majors, is working towards becoming a better historian.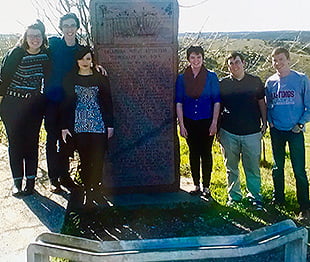 A history education and theater education major, Holcomb is examining how Alexander Hamilton, one of the Founding Fathers of the United States, is portrayed in the hit new musical "Hamilton." She's comparing how Hamilton was memorialized before the production and how the musical may affect how he's memorialized in the future.
Designed as two courses, an Introduction to Historical Methods and Collaborative Research Project, sophomore seminar gives students early in their academic career an opportunity to work closely with professors to tackle and conduct research properly. It's a great way to build skills and prepare for senior seminar, which requires a very high level of work.
Each semester, the sophomore seminar program theme changes, allowing students to branch out of their comfort zones and explore something new related to the theme. Set up by Professor of History Dr. Rob Babcock, the spring 2016 theme is monuments and memorials.
"I really wanted to show in mine that a memorial isn't always a granite statue," said Holcomb. "It's not necessarily the Statue of Liberty, the Egyptian pyramids or the Lincoln Memorial. It's not always a statue of a dead guy. It can be a living, breathing thing and what better way to present that than through a musical."
Taught by Dr. Glenn Avent, associate professor of history and chair of the department, and Dr. Michella Marino, assistant professor of history, the Historical Methods class helps students explore methodological approaches to research—such as how to find appropriate sources, how to cite those sources and most importantly, how to ask essential historical questions.
"It [the class] prepares you to think like a historian, to ask good questions, to understand that good research is going to have to come out of good questions, to think about how evidence can be used to testify—all of those methodological considerations," Avent said.
The Collaborative Research Project class, taught by Babcock, focuses on the students' individual research projects for sophomore seminar.
Sharing interests in one place
An open atmosphere encourages students to reach out with questions and present their latest work in class. With about 13 students in the class, the program caters to students' needs and learning experiences by having students work closely with professors in and out of the classroom.
It also helps pull history majors together.
"Sophomore seminar creates a nice cohort for students where they can recognize each other outside of class, so I think that's a really positive thing," Marino said. "In terms of academics, it helps prepare them for the senior seminar in much better ways than we were doing individually in each class. This puts it all together in one format."
Avent said it's a special place for history majors—a place where students don't need to validate their interests but instead share their enthusiasm.
Before sophomore seminar was formed, it was hoped students would gain the skills essential for senior seminar through class lessons and projects. Faculty found that sometimes students had a hard time understanding the basic steps of research projects simply because they hadn't been taught. Now, faculty combine everything in sophomore seminar that students need to learn ahead of senior seminar.
"What that allows us to do is spend more time on research and gathering sources when they're seniors, as opposed to trying to teach them about these skills that we want to see in their paper," said Marino. "It really frees us up and frees them up to actually really dive way more in-depth with their projects and their research."
Effects on past participant
Nick Musgrave, a junior at Hastings College majoring in history and political science, experienced sophomore seminar and all it has to offer.
"I believe it's one of the most important things that the History Department does," he said. "We're learning a lot and it helps us with our senior seminar and it helps us if we want to do independent research. I'm doing independent research as a junior, before senior seminar, and traditionally, senior seminar is when you learn how to do your first independent research project."
Musgrave's sophomore seminar project compared immigrant experiences between soldiers in the Mexican-American War and the American Civil War, and how that related to a change in acceptance among immigrants within the American society.
"At the end of the semester with sophomore seminar, I was able to walk out knowing how to ask meaningful questions about the past, how to interpret documents that answer those questions and how to put that all to a 12-page research paper," said Musgrave.
Musgrave said he continues to reap the benefits of sophomore seminar. Most recently, he traveled to Lahinch, Ireland for a month to conduct an independent research project. While there, he studied James Bartholomew Blackwell and presented his findings at the Texas A&M History Conference and the Missouri Valley History Conference.
"I think the coolest part is how most schools do not expect the majority of undergraduate history students to be producing academic conference caliber papers," he said. "The Hastings College History Department not only expects it, but actively encourages it."
By Amanda Miller, a senior from Woodland Park, Colorado majoring in journalism