On the Hastings College campus, junior Russell Heitmann has been involved in multiple components of the Hastings student-run media.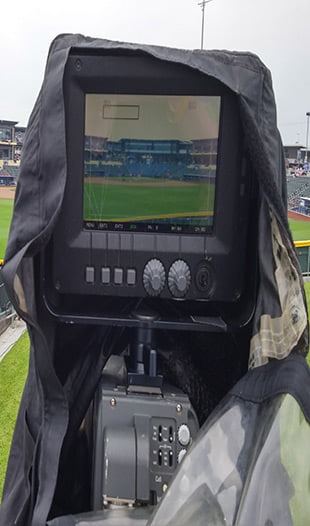 Serving as Sports Director for HC Media. Live game broadcasting and commentating at Hastings Bronco Basketball and the NAIA DII Women's Basketball Championship games. Capturing and editing video footage. Anchoring for sports on the campus's Bronco News Now. Writing news stories for the Collegian, the campus newspaper. Heitmann has done it all.
His involvement has paid off, too.
After hearing about an opportunity a couple years ago from both Kim Graviette in Career Services and Assistant Professor of Communication Chad Power, Heitmann is spending his summer utilizing all his experiences and skills as an intern for Time Warner Cable Sports Channel (TWC Sports).
According to Heitmann, subscribers to TWC Sports receive coverage of local sports. The cable company covers Nebraska collegiate and high school sporting events and specialty events like Eagle Dirt Track Racing and the College World Series. They also cover the Omaha Storm Chasers and run specialty and season wrap up shows for various sporting teams.
A student double majoring in sports broadcasting and journalism, Heitmann specifically will help with the broadcasts of Eagle Dirt Track Racing and the Omaha Storm Chasers games. He said he will also be involved with the College World Series media day coverage and the Nebraska Cornhusker football team's fall camp.
"My primary tasks will include crew for broadcasts and video editing for packages to air on specialty shows," said Heitmann.
By taking part in this summer internship, Heitmann said he hopes to gain practical hands-on professional experience as well as network experience.
"This internship will present me with many opportunities to not only connect with other professionals in the field, but also work directly with them," he said. "I hope to not only further my knowledge of sports broadcasting but help build relationships that will help me in the future with job searching and having a solid network of professional colleagues."
After working with different media platforms on campus, Heitmann now has the chance to see how what he has learned can be applied.
"I am most looking forward to seeing how sports broadcasting is done in the professional world," Heitmann said. "Hastings College has a phenomenal broadcasting and media department, without which I would not have this opportunity with TWC Sports, but I look forward to seeing and learning how other media outlets run their operations. By doing so I will be able to combine the knowledge I have gained at Hastings with the new experiences I get from TWC Sports in order to make me a more well-rounded professional."
Heitmann is looking forward to the opportunity to work with TWC Sports and hopes it will open the door for future sports broadcasting opportunities.