Their love story involves music, passion and athletic turf. James and Letty Graff '01/'99, two talented music students, found a way to pursue their passions and still have the lives they always wanted.
James, a 2001 vocal music graduate, and Letty, a 1999 piano performance graduate, met at a music mixer in Fuhr Hall. The baritone and his assigned accompanist married. James began leading the family turf farm in Fort Morgan, Colo., after graduation, and Letty was a stay-at-home mom.
Graff's Turf Farms, established in 1979, is comprised of 440 acres of climate hardy, highly adaptable sod and is the perfect turf for some of the best athletic fields in the nation including Invesco Field (Denver Broncos), Wrigley Field (Chicago Cubs) and Busch Stadium (St. Louis Cardinals). James owns and manages the farm.
James and Letty recognized a growing need for the arts in their area. As a school board member, James witnessed the pressure placed on area schools to cut arts programs.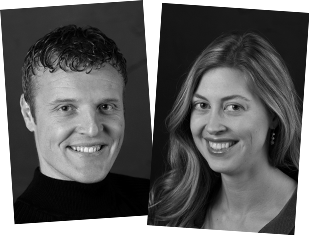 The couple opened the School for the Performing Arts for Fort Morgan and the surrounding area. The school offers professional instruction in dance, voice, piano, guitar and percussion for students of any age.
"We never dreamed it would take off at the rate it has," James said
The School grew in its first year from 40 students to 150 students, ranging in age from 3 to 62 years old, and nine instructors. James is president of the board, and Letty teaches piano. Both work to perform the duties involved in running a non-profit school, with help from volunteers and the community.
"It's fun now to be doing what we're doing, using our degrees, and to have it make sense now, to know that music wasn't just a whim," Letty said.
The Graffs' best reward is the impact on area high school students. When the Graffs saw their first group of high school seniors graduate this year, many qualified for music scholarships.
"We both found music to be our deep-seated passion, but not for our career," James said. "We wanted kids and that small community lifestyle. The school was our opportunity to live our passions."