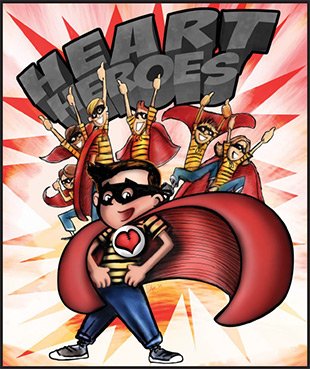 From the Fall/Winter 2013 edition of HC Today.
Even the smallest superheroes can make a difference in the lives of many. They may not leap tall buildings or move faster than a speeding bullet, but every day, around the world, these tiny crusaders face some of the scariest situations in the most intimidating of places and sometimes against towering odds. Through their bravery, and with a little help from some other heroes, they've inspired overwhelming support for their cause.
In the Blackest Night
Omaha native Kitty (Crafton) Burton '99 was 30 weeks pregnant when she was told her son, Sam, had a congenital heart defect (CHD), a rare form called Hypoplastic right heart syndrome, and that he would need at least three heart surgeries to survive. "It was terrifying. We felt helpless and hopeless," Kitty remembered. "Prior to Sam's third surgery, he was not even able to run without vomiting. He's gone from oxygen saturations in the 70s to low 80s and now it's up to 99!"
Through their long and difficult journey of multiple doctors' visits, surgeries and hours spent watching over Sam in the hospital and recovery, Kitty discovered that the simple act of wrapping her son in a superhero cape allowed him to become "Super Sam."
It helped to sustain his bravery through the scariest times. It also brought her comfort to know he kept his cape close when she couldn't be by his side. "It's so much more than just a piece of cloth," Kitty said. "It's a bond between families. It's support. It's everything in a time when you're looking for anything good and hopeful to cling to. When it's most needed, the capes make them feel empowered and resilient and invincible."
I Have the Power!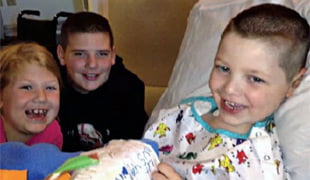 It was a solace that Kitty wanted to share with all CHD superheroes and their families. In 2009, Kitty and fellow CHD mom Sondra Dubas founded Heart Heroes, Inc., in Omaha and began distributing superhero capes to children across the country who are fighting their own CHD battles. "It's my life. It's my passion," Kitty said. "It only seems natural that I would want to offer support to any family having to face what my family went through." Inspired by the incredible bravery shown by CHD children in the face of such adversity, Heart Heroes is fully organized and operated by volunteers, and every dollar raised goes toward capes for children. Funds are gathered through generous donors and through special Heart Hero fundraising and dine-out events.
Shazam!
Heart Heroes gained national attention in July when it was featured on the "Making a Difference" segment aired on NBC Nightly News with Brian Williams. Viewer response to that segment was overwhelming. The Heart Heroes website saw an astounding 12,000 percent increase in traffic, and they received more cape requests than in the previous four years combined. The outpouring of support and appeals for capes inspired NBC to do a follow up story, which aired nationally in August.
"It's been crazy, but, I mean, it's been a good crazy," Kitty said. "The feeling that you get from knowing that you've reached out and helped this many people and that you have the ability to send capes to children that will light up their faces and give them strength to get through day-to-day struggles. … We're just plugging away trying to get cape requests out as fast as we can."
Love, Kindness and Service to Others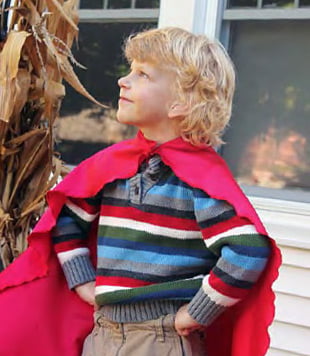 Four-year-old Henry Black is the son of HC alumni Amy (Quist) and Joe Black '90/'97. Amy is a Professor of Economics at Hastings College. Henry's heart defect was detected at birth and, soon after, Amy and
Joe found themselves at the Omaha Children's Hospital for tests and evaluation of their one-week old son. When Kitty first heard about Henry, she immediately offered helpful resources, support and information to Amy and Joe. Without them even needing to request one, a cape arrived in the mail for Henry addressed from the Burton family.
"To get help from someone who knows the system, the tests and even places to stay and others to talk to for help … it's all the little things you really need," Amy said. "When you have a sick child, it's a whole new world you have no idea about until you're there."
Henry was diagnosed with aortic valve stenosis, or narrowing of the aortic valve. In Henry's case, early monthly monitoring gave way to yearly evaluation of his condition. So far, they've been able to postpone a need for surgery. "Henry wears his cape a lot," Amy said. "He really believes he is Super Henry. He goes into every appointment like, 'Here I am and look at my special heart.'"
With Great Power Comes Great Responsibility
Heart Heroes got a boost of superpower this year. Following its national attention this summer, Heart Heroes announced the kickoff of its first national campaign, including community events in 11 different cities across the country. In addition, Heart Heroes is working with a possible sponsor that would create a nationwide fundraising campaign for CHD in 2014.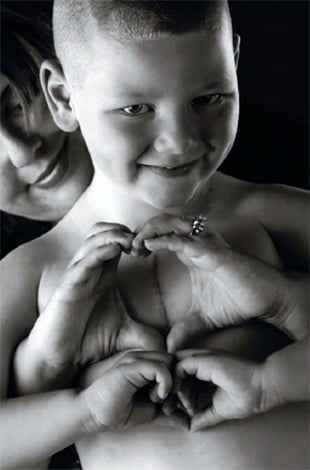 In December this year, Kitty Burton and Heart Heroes will join a team of 17 medical professionals and pediatric cardiac surgeons from Omaha Children's Hospital on a mission trip to provide cardiac care and heart surgeries for children in LaPaz, Mexico. Funded by the Los Cabos Children's Foundation, Heart Heroes will provide superhero capes for each of the children touched by the effort and for all missions the team serves.
About Kitty
Kitty (Crafton) Burton is a Heart Heroes co-founder and is Vice President and Treasurer of its Board of Directors. She graduated with a bachelor's degree from Hastings College in 1999 and served for 10 years as a Hastings College Admissions Counselor and as Associate Director of Admissions. She left HC in 2010 to dedicate more time to her family and Heart Heroes. Kitty has worked as a Crisis Counselor and Supervisor at Boys Town in Nebraska. She also serves as the Associate Director of the Engebretson Foundation.
To learn more about Heart Heroes or for more information on how to help, go to heartherocapes.com.