Nathan Mertens' saxophone career has a distinctly international flair. Since graduating from Hastings College in 2012, he studied at the l'université Européenne de Saxophone in France during the summer of 2015 and has performed in Japan, South Korea, Hong Kong, Taiwan, China and England. Now, he is headed to Tokyo as the recipient of a prestigious Monbukagakusho Research Student Scholarship.
"I'll be the first American saxophonist to formally study in Japan, and I can't wait to begin," said Mertens, who departs in April 2017 for a two-year research experience at the Kunitachi College of Music. "I will be researching Japanese saxophone performance and pedagogy trends, with an additional focus on linguistics and its effects on saxophone playing."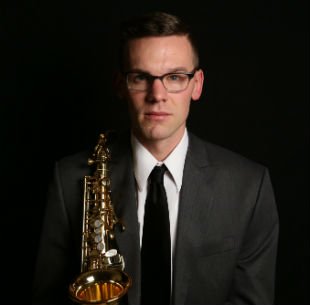 Mertens, who graduated magna cum laude from Hastings College with a Bachelor of Music in Saxophone Performance and a Bachelor of Arts in Woodwind Pedagogy (personalized program), completed his Master of Music in Saxophone Performance and Doctor of Musical Arts degree at The University of Texas at Austin, where he was a teaching assistant in the Saxophone Studio. He also maintains an independent studio of accomplished saxophone students and is a D'Addario Woodwind Method Clinician.
He credits the Hastings College Music Department for some of his success.
"Dr. Debra Rhodes was my saxophone professor at HC and has continued to be my mentor," he said. "If it wasn't for her guidance and support, I wouldn't be who I am today. Additionally, the entire music faculty at Hastings College really had a hand in shaping my career as a performer, educator and artist."
A rigorous application process
The Monbukagakusho program, established in 1954 and managed by the Ministry of Education, Culture, Sports, Science and Technology in Tokyo, offers scholarships to researchers, graduate students, and undergraduates from around the world.
Mertens was selected for the fully-funded scholarship after completing a lengthy application and an extensive review process. He also studied the Japanese language for a year at The University of Texas.
"I completed an interview at the Japanese Consulate in Houston, took diagnostic language exams in English and Japanese, received sponsorship from the Embassy, was accepted by a Japanese University and finally, approved by the Japanese Ministry," he said.
As a researcher at Kunitachi College of Music in Tokyo, Mertens will work closely with famed saxophonist Masato Kumoi, soprano saxophone chair of the internationally-known Masato Kumoi Saxophone Quartet.
Off to a great start at HC
Mertens, a Waverly, Nebraska native, enrolled at Hastings College in 2007 and quickly became one of the most versatile and involved musicians on campus. He performed in the Hastings College Choir, Wind Ensemble, Saxophone Quartet, Jazz Ensemble, Symphonic Band and Hastings Symphony Orchestra. Named the James King Outstanding Bandsman at Hastings College in 2010, he also won numerous performance awards from the Music Teachers National Association (Nebraska) and Hastings Symphony Orchestra, among other organizations.
In addition to his music activities, Mertens was a Student Senator, a member of Alpha Chi scholastic honorary, a Homecoming finalist and a Who's Who recipient.
"Hastings College taught me how to be a musician and a person," he said. "Was I the greatest saxophonist when I left Hastings College? No, but with a great work ethic and sense of self, I was ready for the road ahead."
by Jake Konen, a junior from Hastings, Nebraska, majoring in marketing