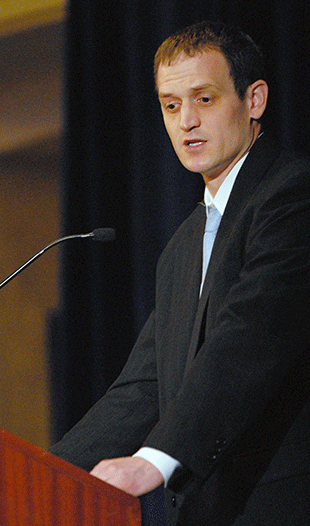 It's fairly common for Gregory Johnsen '01 to receive threats from Al-Qaeda members.
"It's something you can look at in different ways," Johnsen said about the threats. "It lets you know that some of what you are doing has validity."
Johnsen is a national expert on Yemen and Al-Qaeda's presence there. He has appeared on several advisory panels and discussions on Yemen and counterterrorism and has been interviewed by numerous national and international media.
Johnsen, who is fluent in Arabic, lived in Yemen and traveled in the Middle East for several years. He credits his extensive network of friends for his intimate knowledge of the country's people and culture. He has lived among Yemen's local tribes and has met and talked with Al-Qaeda members.
The Kearney, Neb., native grew up in Guilford, N.Y., graduated from Hastings College in 2001 with distinction in history, and was a Peace Corps volunteer in Jordan for 18 months. In 2003, Johnsen received a Fulbright Fellowship to Yemen and spent a year completing his research on the 1962-68 Yemen Civil War. He received his master's degree in Near Eastern Studies at the University of Arizona and is a Ph.D. candidate in Near Eastern Studies at Princeton University.
Johnsen has written for national publications on Yemen, including Foreign Policy, The American Interest, and The Boston Globe. He has appeared on CNN, BBC, NPR, and al-Jazeera. He has been quoted in national publications including The New York Times and The Washington Post, and he has written a book on the presence of Al-Qaeda in Yemen over the past 20 years.
Johnsen says his Hastings College mentors, Dr. Robert Babcock, Dr. Dennis Storer and others were instrumental in guiding him.
"My Greek and Roman World History course with Dr. Babcock started me on my journey to Yemen," Johnsen said. "If I can point to one thing that gave me that initial push to where I am today, it would be the close, personal attention that HC faculty gave me."