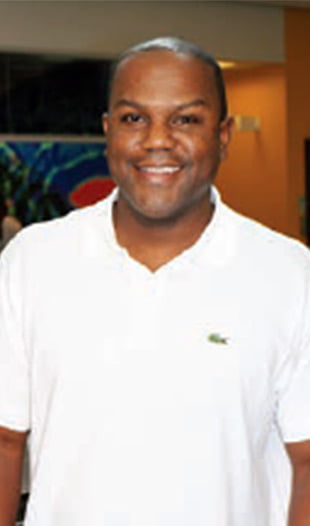 James Jefferson '99 traveled from his home in Los Angeles, Calif., to visit campus for HC's Homecoming celebration this year, remembering his days as a psychology and education major and center fielder for the HC baseball team.
Fourteen years ago, James took his HC experiences back to LA and put them to work serving his community with the California Highway Patrol (CHP). He is currently an officer with the Judicial Protection Unit, primarily providing protection and investigating threats for the Judges of the California Supreme Court. In this role, he's also had the opportunity to protect prominent dignitaries and officials, includ­ing four U.S. Presidents and the Dalai Lama.
James came to HC on a baseball scholarship after talking to admissions and coaches about the school. His high school baseball coach in LA had connections to HC and suggested he consider the school. He took a chance, and moved half-way across the country for his freshman year, never having visited the campus. "Worst case scenario, I'd just stay one semester. But, I didn't plan on leaving." And he didn't. As an integral part of the championship baseball team and enjoying campus life, he stayed.
The lessons he learned in the classroom and on the field in Hastings translated to life then and now. His commitment to course­work and athletics while on campus not only kept him busy, but continued building James' work ethic and core values.
Playing baseball, James said he learned to be mentally tough, how to handle ups and downs, and find balance. "A lot of it was about being able to push through when you're tired. You don't have a choice," he said.
In his academic work in psychology and education, he developed a commitment to his community and fellow citizens. He found that he wanted find a way to serve others in his work. "I wanted to know I was affecting someone in a positive way," he said.
Following graduation and student teaching, James spent a short time as a substitute teacher in Hastings (Neb.) Public Schools, and then returned home to LA. He found that getting his teaching certifica­tion in California would require additional coursework, and he was considering his options when an old family friend and neighbor began talking to him about a law enforcement career with the CHP.
While it wasn't the direct path he'd planned, the prospect of a law enforcement career immediately clicked with his aspira­tions to help and serve others. "I went on a ride along, and I was sold," James said. "I would get to make the difference that I would like to have seen in law enforcement, to be the change that I wanted to see. It was a big opportunity to make an impact on society in a positive way."
He attended the academy, and became an officer with the CHP in February 2002. He was assigned to patrol West LA, where he worked until his recent new assignment. In his career, he's been able to fulfill his goals to make an impact, working closely with the community. "That is what it comes down to in law enforcement. You're serving and helping others. You're affecting someone in a positive way," he said.
James lives and works in the LA area. When he's not working, he enjoys working out, and spends time enjoying California's beaches and hiking trails. He is a fan of the L.A. Dodgers and attends many college and professional sports events.
By Melissa (West) Eich '97