Most students complete master's degree programs at schools across the state or even across the country, but few have the opportunity to study abroad. Miranda Klugesherz, a 2015 Hastings College graduate, plans to do just that.
Klugesherz will attend University College Cork in Cork, Ireland, as one of only 12 national recipients of the prestigious George J. Mitchell Scholarship sponsored by the U.S.–Ireland Alliance. The year-long Master of Science program in social policy begins September 2017.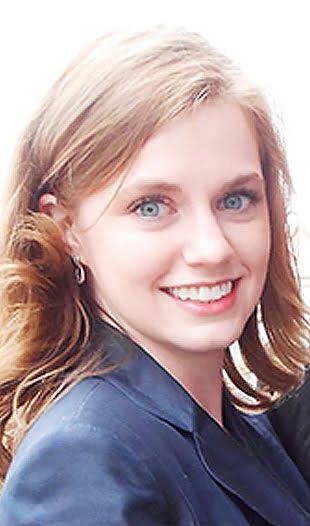 She will focus her work on engaging individuals who have experienced hunger and poverty and the policy decisions that affect them.
The Colorado Springs native stumbled upon the Mitchell Scholarship application while researching doctorate programs. While she didn't participate in Hastings College's Irish Fellows Program—which allows students to conduct independent research for several weeks in County Clare—she became intrigued by Irish culture, especially Ireland's role as an international leader in the fight against hunger.
Klugesherz said the Mitchell Scholarship application process was lengthy and rigorous.
"I worked on my application for six months before I submitted it," she said. "Scholars are selected based on 'scholarship, leadership and a sustained commitment to community and public service.' The U.S.–Ireland Alliance selected the top 30 applicants as semifinalists for Skype interviews. From there, the top 20 were invited to Washington, D.C., for finalist interviews."
Klugesherz and the other finalists (several of which were from top schools such as Harvard, Princeton and Columbia) attended an evening reception at the home of Ireland's Ambassador to the United States, along with members of the U.S. State Department, U.S.–Ireland Alliance and the scholarship selection panel. The next morning, the finalists interviewed before a panel of 12, including the Deputy Irish Ambassador. Klugesherz received a congratulatory call that night.
A career dedicated to humanity
Although she doesn't leave for Ireland until fall, Klugesherz is already doing good in the world. In addition to completing a master's degree in communication studies at Kansas State University where she is a teaching assistant, she is a research assistant at KSU's Institute for Civic Discourse and Democracy and a social justice leader in the community.
As an executive member and co-founder of the nonprofit Live Well Geary County (Kansas), Klugesherz strives to close policy and system gaps that prevent residents from living healthy lives.
"For example, we run a program called the Summer Picnic Parties," she said. "We offer free lunch to all children under the age of 18 over the summer months when they do not receive meals at school."
Klugesherz also chairs the Junction City Food Policy Council in Geary County, which she describes as "the most impoverished, food insecure county in the state." The advisory council informs the city commission on issues related to the local food system.
"As chair, I direct community research and engagement initiatives, testify for or against state-level policy on behalf of our city and work with all sectors of the community to make sure their voices are heard in policy decisions made by the commission," she said.
Pursuing knowledge in the classroom and beyond
In addition to dedicating her career to helping others, Klugesherz has always been passionate about education. She graduated from Hastings College as a double major in sociology and communication studies with a minor in advertising and public relations. She will receive her master's degree from KSU in May 2017.
During her years at Hastings College, Klugesherz competed on the forensics team and, as a senior, directed Food4Thought, a student-run nonprofit at Hastings College that sends bags of nutritious meals home with elementary students on the Free and Reduced Lunch Program during the weekends throughout the school year. Faculty at Hastings College consistently supported her experiential endeavors.
"The most pivotal aspects of my education were the emphasis HC placed on service learning and the pragmatic application of classroom lessons to real-life scenarios," Klugesherz said. "On the occasions I was absent for court—I worked as a legal assistant at a law firm all four years—for speech or for Food4Thought, my professors saw that those provided me with a different kind of experience that was every bit as foundational to my education as their lectures. Now that I am an instructor, it's a mindset that very much undergirds how I run my classroom."
By Jake Konen, a junior from Hastings, Nebraska, majoring in marketing