Brooke Ballou '15 is finding post-graduate success with the Union Pacific Railroad in Omaha, Nebraska. The 2015 Hastings College graduate from Wilsonville, Nebraska, landed a job as an account representative, managing accounts with chemical shippers.
Ballou initially was introduced to Union Pacific at a career fair, and was attracted to the company's encouragement of employees to diversify their skill sets and take on new roles in the company.
"I liked the idea of being able to 'job hop' while working in the same company," said Ballou.
Know how to network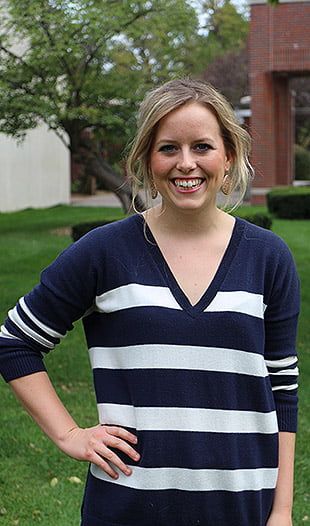 While at Hastings College, Ballou saw success as an intern for companies related to her major field, including Farm Credit Services of America and Great Western Bank. But according to her, it's not the titles that count.
"Internships are great networking opportunities," Ballou said. "It's easy to get too caught up in the title of the internship instead of taking into consideration the people you could meet or the unique opportunities you have the chance to experience."
Great professors make the difference
Holding degrees in both business administration and marketing, Ballou values the critical thinking skills she honed while at Hastings College in classes both in and outside of her majors.
"In my current job, I use problem solving and analytical skills on a daily basis in an effort to make the most effective decisions I can," Ballou said. "The liberal arts education I received at Hastings challenged me to think strategically, and that has made a huge impact in the success in my career."
For Ballou, one of the biggest advantages of Hastings College is the faculty, a resource that she fully utilized.
"I always tried to take classes from the best professors on campus, I learned just as much from them as people as I did from the course-specific content, "said Ballou. "This is especially true of one of my marketing professors, Dr. Carol Meyer, she not only taught but truly inspired."
By graduation, Ballou ended up taking all of the classes offered by Meyer, and it made a huge impact.
"Dr. Meyer's classes gave me the confidence and competence to give presentation in the corporate world," Ballou said. "Taking her classes was one of the best decisions I made in college."
Extracurriculars provide extra experience
Ballou said she also believes that some of her success after graduation is due to her involvement in extracurricular activities.
"Through student life activities, you learn excellent leadership, networking and time management skills imperative to your career development," she said.
Ballou lived up to this mantra with [AG]vocates, a student group she was instrumental in founding at Hastings College. The group promotes agricultural awareness and education, as well putting on a week long celebration known as "Ag Week" each spring open to all of campus. With her deep interest in the issues [AG]vocates promotes, Ballou's work with this group is one of her fondest memories at HC.
"I am a huge supporter of both agriculture and rural America," said Ballou. "It was so rewarding for me to be able to share this passion with my peers."
By Nick Musgrave, a junior from Parkersburg, West Virginia, majoring in history and political science