Cory Sexson '09 was baffled when it came to what he wanted to do with his career when he graduated from Hastings College.
After managing various marketing campaigns, receiving his Master of Business Administration, and becoming a team leader at Tropicana, Sexson's passion has become clear. He loves to lead people — and was recently named to the Brand Innovators 40 Under 40 in the Midwest.
As a former captain of the men's soccer team, the passion for leading and motivating teams has always been there for Sexson. Over time he saw how that same passion could be translated from athletics into the business world, a realization that changed everything for him.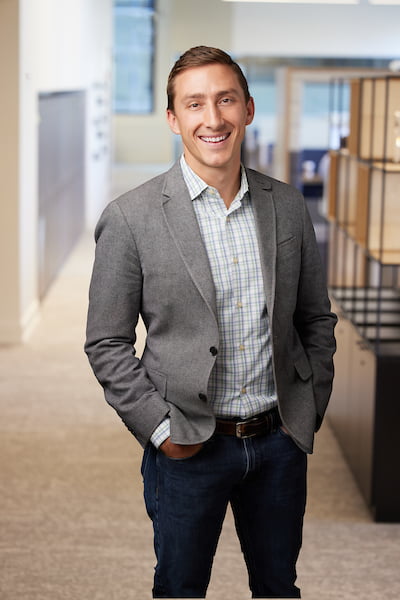 "I enjoy building people up, getting them motivated, finding what makes them tick and growing their careers," he said. "Leading teams is something I have always enjoyed and I feel really blessed to have the opportunity to do just that."
When Sexson realized that his dream was to eventually move into an executive role, he went back to school and received his MBA from Northwestern University.
After building his resume working for Tropicana and various other companies, Sexson landed the role of Vice President & General Manager of Emerging Brands and Breakthrough Innovation. Sexson currently has full leadership of several brands within Tropicana, including IZZE, a sparkling juice, and KeVita, a line of functional beverages.
Sexson has been successful working in this role, and was recently named to Brand Innovators 40 Under 40 list in the Midwest, an honor he claims is due to the great people he has the privilege of leading. Honorees were nominated by the Brand Innovators community, which includes more than 25,000 brand side marketers across the United States, Canada and United Kingdom. Winners were selected by the Brand Innovators editorial team based on their professional accomplishments, expertise in leveraging digital media and emerging advertising technology platforms and a drive to continually keep their respective brands on the cutting edge of innovation.
"One of the things that has enabled me to be more successful in my career is leveraging and leaning on the people on my team," he said. "I wouldn't have been able to get that award if I didn't have a strong team under me. They are brilliant leaders, which makes my job that much easier."
Sexson values the people around him, and makes it his goal to learn from all his interactions with those surrounding him. This started for Sexson as a student at Hastings College.
"Hastings College allowed me to be a member of the soccer team as well as being involved in Lambda Pi Eta, the communications team. I learned so much from getting to know people involved in different activities and sports, with vastly different backgrounds," he said.
Sexson, who studied marketing at Hastings College, also learned immensely from his professors and is thankful for their dedication to helping students find their voice.
"There is an art to speaking in front of people, and at Hastings College my professors really helped me find my voice, my unique voice. Because of professors like Dr. (Jessica) Henry, I became confident in my ability to speak in front of people. The ability to stand up in a meeting with purpose and command the attention of the room with a cohesive and logical story has done wonders for my career," said Sexson.
Sexson has ultimately found his voice through the teams he leads and the products he manages; the two driving forces behind his passion for his job.
"I am married with two kids, and I want to work on products that I am proud to take home to my family," he said. "Right now that means lots of health and wellness products. And second, I want to grow the careers of the people on my team. I am very fortunate to be in a position right now that has given me the opportunity to do both."
By Landry Hinkson, a junior communication major from Bazaar, Kansas.