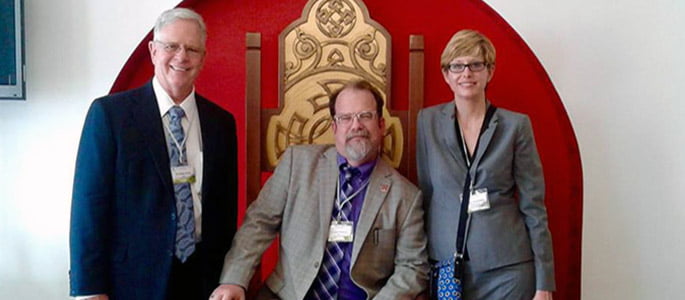 Hastings College has a special relationship with one of its sister schools, Pyatigorsk State University, in Pyatigorsk Russia, that dates back about 20 years. Both schools exchange students for study abroad. Recently, Hastings College President, Don Jackson; Dr. Liz Frombgen, professor of political science and associate vice president for academic affairs; and Dr. Rob Babcock, professor of history; visited Pyatigorsk to spend time on campus and participate in a conference the University was hosting on Islamic Terrorism.
"Pyatigorsk State University was hosting a conference on fighting Islamic terrorism, particularly the group known as ISIS, and the university was inviting all of its partner schools to attend," said Babcock. "Dr. Frombgen and I presented papers at that conference, and President Jackson made remarks on the College's behalf to both the conference and the Russian media."
Worldwide Connections
"Pyatigorsk State University is Hastings College's first and longest-lasting international partner," Babcock said. "Under the terms of our agreement, Hastings College students may study for a semester or a year at Pyatigorsk for the same cost of attendance that they pay to study in Hastings — all academic and other scholarships apply, and all courses usually apply to their Hastings College degree program. Similarly, Pyatigorsk students can come to Hastings for the same period of time paying no more than they would have paid to study at their home university."
Jackson says that Hastings College will continue to look for opportunities for students from Pyatigorsk to come to Hastings College, and Hastings College students to travel to Pyatigorsk. In the past, exchange students have typically enrolled during J-Term, a study period between the regular semesters when students take one intensive class. The new arrangement, however, may bring more Russian students to campus during the fall and spring semesters.
When asked about his experience in Pyatigorsk, Jackson had nothing but positive things to say.
"Beyond strengthening Hastings College's relationship with Pyatigorsk State University, the conference provided a unique opportunity for Drs. Frombgen and Babcock and me to engage in intense conversations on how to address the threats posed by ISIS. The other participants around the table were political and religious leaders from front line countries in the battle against terrorists. It drove home how our students need to have a better understanding of the broader world so they are equipped to thrive in today's global workplace. Among the best ways for our students to grow in this area is by taking advantage of our exchanges with PSU and other institutions around the world."
By Jake Konen, a junior from Hastings, Nebraska, majoring in English and Marketing