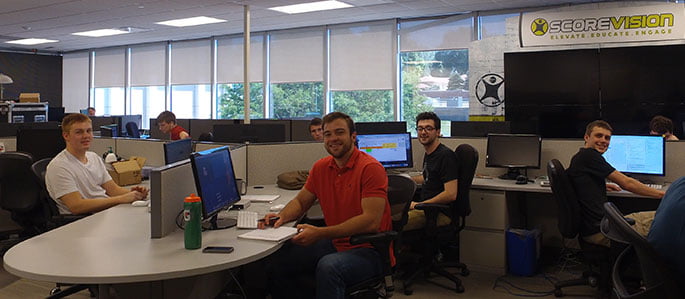 Hastings College has partnered with Omaha-based ScoreVision to install a new state-of-the-art scoreboard in Lynn Farrell Arena—and pilot a new internship program. This summer, four Hastings College students are exploring uncharted territory in scoreboard technology while applying their individual skills and interests.
Students Tyler Murphy, John Funkey, Landon Rodabaugh and Ben Scheef work closely with the leadership team at ScoreVision, a software company founded by Chad Bokowski, Gordon Whitten and David Sutter that creates a professional jumbotron-like scoreboard experience unlike any other. Whitten is a 1993 graduate of Hastings College, and Sutter is a 1991 graduate.
Each student is working with a different facet of the company directed toward their area of interest—broadcasting, marketing, computer science and accounting. Yet they also work across the company to learn the tools and details about the Hastings College board, while helping with other projects for ScoreVision.
"It's not really a traditional internship. They get to learn something specific to career goals, but on another level. They learn about how the (ScoreVision) system works and how to maximize and leverage it, then teach others how to use it on campus," said David Sutter, chief creative officer for ScoreVision.
The startup company is currently a small group, comprised of about 30 employees,  including ten interns. But as Sutter says, they "work in an intimate, collaborative environment."
Contributing their individual strengths
The capability that the interns have already shown goes beyond Sutter's initial expectations, and the Hastings College interns are doing critical work in their respective areas of expertise.
Murphy, from Simi Valley, California, has been using his broadcasting background to produce videos that will be played on ScoreVision screens during games or other events.
"I have been doing more in-depth video work beyond what I have done with news packages in the past," Murphy said.
Funkey, a marketing student from Hastings, Nebraska, has been involved managing the company's social media and writing copy, which requires him to come up with creative ideas and concepts with a fresh perspective.
"My main goal is to develop my writing skills to a higher level and build a foundation of skills while creating a marketing plan," Funkey said.
Rodabaugh's two biggest interests are sports and computers, and this internship brings the two together. ScoreVision is run by a score keeper iOS app, and Rodabaugh, from Casper, Wyoming, has been coding the product and designing what viewers see.
"When I come into problems, the leadership team is really involved. Corey Spitzer, lead software engineer, takes the time walking me through it instead of just telling me what to do. He's helping me learn why it works," Rodabaugh said.
Rodabaugh hopes to expand his knowledge and grow as a programmer, learn the languages and styles used here as well as all the different aspects of the program.
Scheef, from Wahoo, Nebraska, is performing data entry and research, which is critical work for the ScoreVision sales team. He meets with Whitten, ScoreVision's CEO, periodically about business development, data and how to leverage the system.
A new era of technology
Though the internships will last throughout the summer, one part of the Hastings College students' work with ScoreVision comes to life in early July with the installation of new scoreboards on campus.
A 33-by-10 foot board, which is three times the standard size ScoreVision installs in high schools, will replace the current scoreboard in Lynn Farrell Arena. A smaller board is going in Kiewit Gymnasium. Both Hastings boards are underwritten by advertisers and donors.
The arena and gymnasium seemed like the perfect places to install ScoreVision boards since two of the company's three founders are graduates of the college and have ties to Hastings. At the same time, Hastings College was looking to replace its aging scoreboards. Sutter said the timing was perfect.
"We knew from the very beginning that we wanted our alma mater to have it; better yet, it has a prize factor as the first college to have one, as well as the largest indoor board we've installed," Sutter said.
Though professionals will install the boards, interns will assist and learn how to maintain it and understand how the hardware is wired. On the software side, they will get into the guts of the system and learn the controls to operate the custom-made layouts for Hastings College.
Hastings to thrive with ScoreVision
Sutter hopes that this added touch to Hastings College will reach more than just athletics. "Students can get involved with business, broadcasting and art; it's not just for athletes, but for everyone. Students can manage and create each production for school and community events," he said.
According to Sutter, students will take what they have learned and have a planned approach to how they will teach others on campus. "They will be champions of ScoreVision for Hastings College," Sutter said.
Sutter said he hopes the visual impact will resonate with both the current community and future of the college.
"The aesthetic view has a 'wow factor' that can contribute to the image of Hastings College, looking toward the future," Murphy said.
By Jacilyn Bruns, a senior from Grand Island, Nebraska, majoring in Journalism