The Omaha Symphony produces 40 concerts a season, and it's made possible in part thanks to three Hastings College graduates who work behind the scenes. Diane (Knapp) Coffin '86, Jennifer (Gray) Kreitz-Couch '97 and Kevin Hendrix '98 are all part of what they describe as something special.
While you won't see them on stage during a performance, they enjoy experiencing the beauty of the music and helping make each performance a reality.
"We don't create the music. We're caretakers of it," Kreitz-Couch said.
Kreitz-Couch manages Omaha Symphony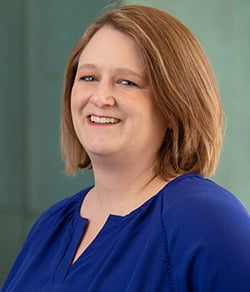 Kreitz-Couch, who doubled majored in English and theatre at Hastings College, has worked for the symphony for eight years and is now the vice-president of orchestra operations and production. In short, she said her job is in the details. She schedules the venues, makes sure people are in their correct places, the correct music is in front of the correct musician, the lighting is correct and that the concert runs smoothly.
"Anything going on backstage or on stage is my job," she said.
However, she said she's not superwoman. She has an entire staff that works with her to make sure the concert is as beautiful and seamless as possible.
"We are a collective unit. I can't do my job without the musicians and composers, and they can't do their job without me," she said.
Coffin appreciates the art community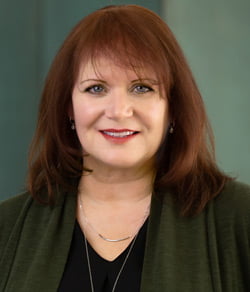 Coffin has worked at the Omaha Symphony for 27 years and is the executive assistant to the president and CEO and the board of directors — and works with all departments of the Symphony.
Coffin studied theatre and English at Hastings College and attended graduate school at Indiana State University. While her specialty was primarily in theatre, when she saw the job opening at the Omaha Symphony, she decided to apply. Coffin said she has always had a love for the arts and wanted to take on a new form.
"The whole arts community is vibrant and connected," she said, "and the universal thrill and beauty of artistic performance made it easy to make the transition."
Coffin has witnessed presidents and CEOs come and go from the Symphony, each with a new style and a different focus, keeping the job exciting. "And at heart, it's all about the music," she said.
Hendrix is new to the Omaha Symphony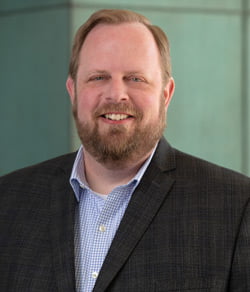 Hendrix majored in history and music at Hastings College and has worked several places across Nebraska before landing at the Omaha Symphony in the past year.
Hendrix is the associate director of development and is in charge of fundraising to support the main stage productions. It's a natural fit because his love for music led him to the organization. The Omaha Symphony is the only professional full-time orchestra in Nebraska, and while he may not be making the music, he's helping the performers share theirs.
"When you see people so engrossed with the music happening on stage, and people react to the art made, that's truly special," he said.
Hastings College helped all become versatile
All three graduates believe Hastings College helped them get to where they are today through the exposure to a broad spectrum of activities and academics.
"You have your core classes and your major classes. The classes were so varied it gave me an opportunity to learn new things, to see how everything was connected, and to find what I'm truly passionate about," Kreitz-Couch said.
Coffin and Hendrix agreed that their Hastings College liberal arts education shaped them as a whole, teaching them both how to look at things from multiple perspectives.
"There was never a class I didn't want to go to," Coffin said. "It's always a joy to learn new things."
By Courtney Hanson, a sophomore from Brookings, South Dakota, majoring in communication studies and philosophy.