With its 30-foot-tall, two-dimensional Buffalo Bill Cody figure looming over a replica frontier stockade, Fort Cody Trading Post in North Platte, Nebraska, is a wonderland of Wild West history and classic roadside Americana. For many, Fort Cody conjures up memories of summer vacations, families cruising down I-80 in station wagons and kids clamoring for western souvenirs and soda pops.
For Nick Henline, a 2010 Hastings College alumnus, the iconic tourist attraction is a family legacy dating back more than 50 years.
"My grandfather [Royce Henline] started it in the 1960s," Henline said. "He was a character and an entrepreneur in every sense of the word. Fort Cody was actually the sixth business he created, including a few other souvenir stores."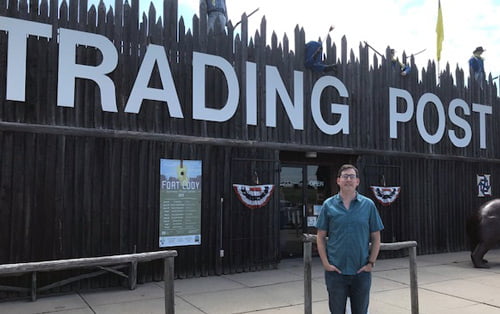 Henline's father, Chuck, took the reins in the 1980s. Henline and his spouse, Marcia (Keele), a 2011 Hastings College alumna and pre-school teacher in North Platte, became third-generation owners in January 2019.
"After I graduated from Hastings College, I immediately started working here," said Henline, who earned a degree in health promotion management with a business emphasis. "For the past nine years, I was apprenticing under my dad and learning the tricks of the trade."
Fort Cody Trading Post lures travelers off Exit 177 with promises of an Old West Museum of cowboy and Native American memorabilia like chaps, spurs, saddles and headdresses. Visitors can consult with an automated medicine man, perch on a covered wagon, see a taxidermied two-headed calf and sit behind bars at Fort Cody Jail. Life-sized soldier dummies guard the fort's walls and towers. Much to the delight of children (and the occasional adult), one unfortunate soldier is impaled in the backside with an arrow.
The true highlight of the Fort Cody experience is Buffalo Bill's Wild West in Miniature, a festive diorama and American folk art treasure created by Ernie and Virginia Palmquist. The narrated show runs every half hour and contains 20,000 horses, trick riders and other hand-carved pieces, many of them mechanically animated.
"Ernie Palmquist went to one of Buffalo Bill's shows as a child," Henline said. "That's where he got the inspiration to recreate it in miniature form."
A nationally-recognized attraction
It should come as no surprise that Fort Cody Trading Post was named in a USA Today article as one of the top 10 places in America to buy souvenirs. Hundreds of items line the aisles. Moccasins and cowboy boots. Rubber rattlesnakes and toy tomahawks. Whiskey glasses and drums. The biggest sellers are Navajo turquoise jewelry, toys, t-shirts and food products, including jams and jellies made in Nebraska, Henline said.
Trip Advisor, the world's largest travel site, awarded the Trading Post a certificate of excellence for delivering consistently great service.
Henline, a soft-spoken, friendly young man, especially enjoys meeting second- or third-generation visitors.
"One of my favorite parts of the job is when people who were first here in the 60's or 70's bring their kids or grandkids in," said Henline, father of 17-month-old Nadia. "I love hearing the stories about generation after generation of people coming back."
On a busy summer day, cars in the Trading Post's parking lot demonstrate the draw of the place with license plates from Nevada to Illinois to Texas.
Still making music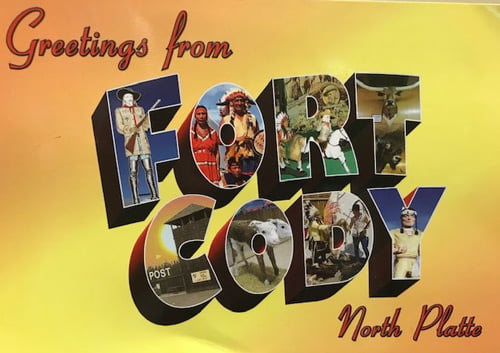 Even though Henline wasn't a music major at Hastings College, he was active in the program, performing with the Choir and Bell Choir and participating in Phi Mu Alpha Sinfonia fraternity.
That passion continues at Fort Cody Trading Post, which hosts a weekly Summer Music Series in the stockade behind the gift shop. An outside promoter brings in bands and performers from a variety of genres, including country, folk and bluegrass.
"Music was my favorite part of my Hastings College experience," Henline said. "The music program attracted me there in the first place, and it truly made me stay. When I graduated, it was the thing I missed the most."
Henline was one of the few non-music majors who took private piano lessons with professor Ruth Moore '69, who retired in 2016 and will be the first musician inducted into the new Hastings College Fine Arts Hall of Fame during Homecoming in October.
"I play organ once a month at church," Henline said. "I really don't know if I would be doing that if not for Ruth. She inspired me to keep playing and improving."
Henline's creativity, nurtured in classes from music to marketing to business administration, is on full display as he assumes ownership of a multi-faceted retail establishment and tourist destination. Even so, the new CEO isn't champing at the bit (so to speak) to revamp an Old West attraction that has delighted visitors for so many years.
"I don't want to do anything too drastic," Henline said. "It has obviously worked for a very long time."
By Judee Konen '85, Associate Vice President for College Advancement