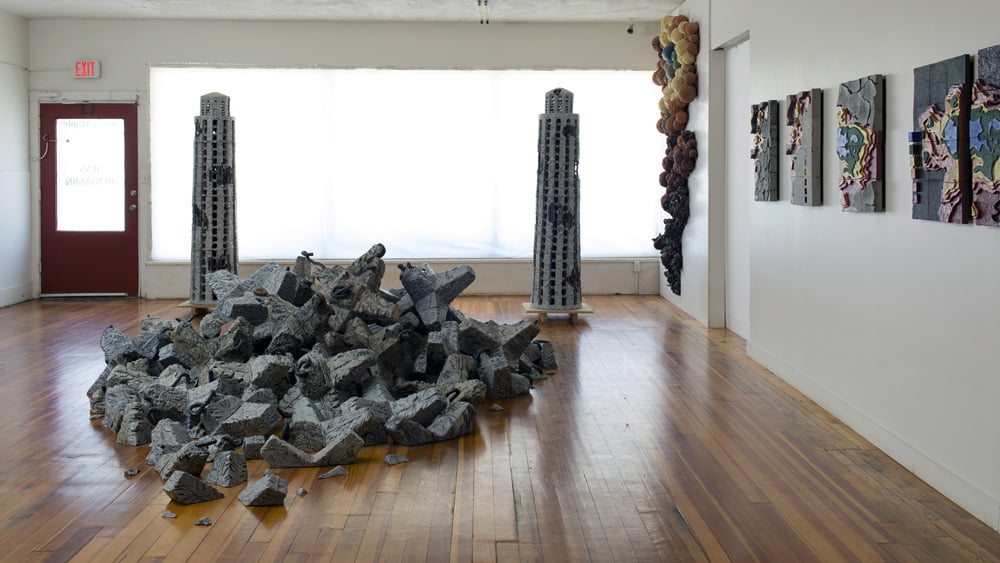 At her studio in the trendy Benson neighborhood of north Omaha, Nebraska, artist Jess Benjamin creates large-scale ceramic sculptures that reflect her rural roots and convey a subtle message about water depletion and climate change.
The 2001 Hastings College studio art graduate, daughter of a farmer and rancher in Cozad, Nebraska, forms globs of clay into H2O molecules and connects them to show patterns of drought. She relies on scientific data to create color-coded maps of the depleted Ogallala Aquifer, the massive groundwater reserve under the Great Plains. She sculpts clay into battered jackstones, the tetrahedrons that protect the surface of dams and remain hidden underwater until revealed by drought.
"The droughts we've been going through are more extreme than the Dust Bowl of the 1930s," Benjamin said. "It's astronomical. It's a giant change."
She creates realistic yet larger-than-life faucets and buckets to depict careless overconsumption. "We take for granted that we can turn on a faucet and fill a bucket," she said. "We might as well have giant water faucets because that's how much we're actually using."
Benjamin honed her artistic skills as the first and only female assistant for famed sculptor Jun Kaneko at his Omaha studio until 2006. She earned a full assistantship to complete her master of fine arts degree in ceramics at Bowling Green State University in Ohio, then headed back to Nebraska to open a 4,300-square-foot studio with a private gallery. From that space, she's creating a career that both transcends and remains grounded in the ethos and concerns of Nebraska.
Named one of Omaha's "10 Showstopper Artists" by Alive magazine, Benjamin has exhibited at the Joslyn Art Museum, Great Plains Art Museum, Museum of Nebraska Art and numerous private galleries. She received an Individual Artist Fellowship Grant from the Nebraska Arts Council and her work has been featured in national publications such as Sculpture Magazine, Ceramics Monthly, Clay Times and NY Arts. Fittingly, she was commissioned to create pieces for the Water for Food Institute at the University of Nebraska-Lincoln and a water retention garden in the Benson Business District.
When she's not working in her studio, Benjamin is an adjunct assistant professor and director of the Lied Art Gallery at Creighton University.
From Lake McConaughy to Lake Mead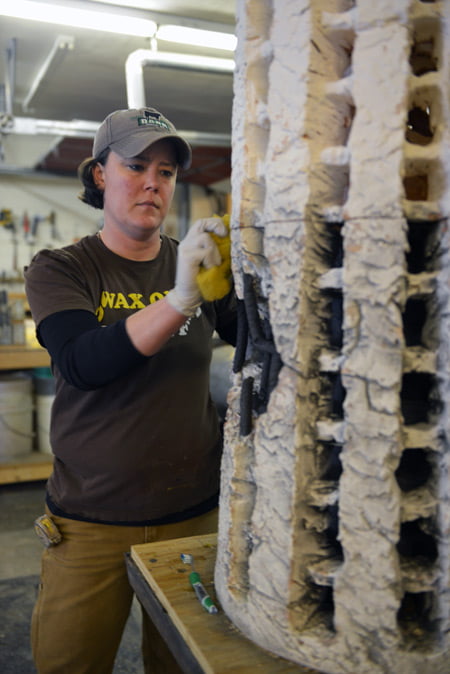 Benjamin, a practical woman who drives a Chevy Silverado pickup and wears work boots and a feedlot cap, trained her imagination in the irrigation ditches of the family farm, where as a child she built dams and diverted rivers between rows of corn. ("I've always been playing with ideas about water," she says.)
Her father, Howard "Howdy" Benjamin, an inductee of the Dawson County Cattlemen's Hall of Fame, taught her about the land and natural resources as they rode horses and did chores.
Benjamin's first environmental creations were inspired by the prickly musk thistles that grew rampant on her parents' ranch. When she yearned to share a larger message, she sculpted the drought-exposed jackstones at Kingsley Dam, located at Lake McConaughy near Ogallala, Nebraska.
Now a city dweller, Benjamin is expanding the scope of her creations beyond the Great Plains. Her latest work depicts the massive intake towers that control water flow at Hoover Dam. The eight-foot-tall, 600-pound sculptures are magnificent and stately but show signs of disintegration.
"They project what's going to happen if Lake Mead goes dry," she said. "When you start chipping away at concrete and exposing the rebar, it doesn't take long for things to fall apart."
Benjamin relies on sources like the U.S. Drought Monitor and scientific articles for the data she uses to create sculptures showing water usage, drought and climate change. She also listens to agricultural market reports on rural KRVN radio and talks to those on the front line, the farmers and ranchers like her father who experience the daily effects of environmental change. What she learns inspires sculptures that are powerful yet understated.
"My work is vague in what I present to people. I can't force my own thoughts onto people, and I can't give them all the answers with my work. But I have to give them an opportunity to use their imaginations in reflecting on their own impact on this world," she said. "There are climate deniers and climate activists, but we're all heading to the same dry end."
Building an intellectual foundation
Honored with the Outstanding Achievement in Art Award while a student at Hastings College, Benjamin took a ceramics course with Adjunct Instructor Jerome Dubas her sophomore year and was hooked. Courses beyond her studio art major gave her a broad-based education
"Hastings College gave me an opportunity to think for myself about things I had never thought about before, like philosophy and political economics and marketing," she said. "Now I apply that foundation to everything I do."
She remains connected with her alma mater through programs like Open Space, the summer art immersion program for the state's most talented high school art students. Last summer, she welcomed the group of 28 to her studio to construct cactus pots. This summer, she'll teach ceramics to Open Space students at the Jackson Dinsdale Art Center, helping them learn to reflect on the world through art.
"The hardest thing about being an artist is that a lot of people don't give us credit for thinking," she said. "I hope my work can help change that."
By Judee Konen '85, Associate Vice President for College Advancement