Since 2004, Hastings College Journalism and Media Arts students have covered the NAIA Division II Women's Basketball National Tournament.
What started as covering the Bronco Women's Basketball team expanded to an exclusive contract to develop and provide content for the tournament's website in addition to streaming video from all games – except the championship.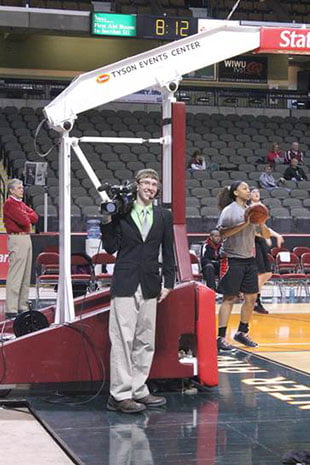 That's changing this year, as the HC Media students add the championship game to the list – and produce it for ESPN3. The semi-final games are also broadcast on ESPN3.
With the finals now in their possession, HC Media has a large task ahead of continuing to produce a broadcast worthy of national attention on ESPN3.
---
For details on 2016 championship coverage, click here.
---
Allen Hamil, a senior from Hinton, Iowa, is an example of HC Media's success.
Hamil, a broadcasting major, has served as a Sports Director for HC Media during every semester since his first year on campus. He has been responsible for many broadcasts, stories and other media related items that has given HC Media national attention.
In Sioux City, experience is key, and this will be Hamil's sixth year in Sioux City with HC Media. When he was a junior in high school, Hamil did his first broadcast with HC Media while shadowing at the NAIA DII National Championship.
"I was listening to a semifinal game back in 2010 and the commentator mentioned that the Hastings College crew was doing the games at the tournament. So that got me thinking because I have always known that I have wanted to go into broadcasting," he said.
Shortly after, Hamil took his first visit to Hastings College when he was a junior, watched a broadcast and liked what he saw.
When the national championship rolled around during his junior and senior years of high school, Chad Power, Assistant Director of Communications and Chair of the Journalism and Media Arts Department, called Hamil and invited him to shadow at the tournament, sealing the deal for one of the most influential media students Hastings College in recent years.
Continued Success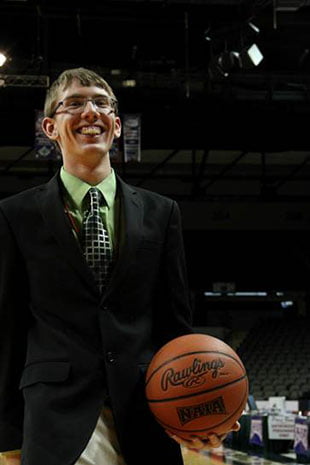 Power has seen his program drastically change over the last decade.
"In 2004 a group went up and followed just the Hastings College Broncos at the national championship," Power said. "It was an idea of a couple of students and some faculty working together and trying to figure out how we could send our video stream back from Sioux City."
After building on the basic broadcasts since 2004, the national championship game for Power signifies the years of hard work that the media program has put in.
"It's quite an honor for the students in the media program to be recognized by the NAIA to have the ability to go up there and do productions and to be contracted by the NAIA to provide them with the 31 games of streams for the tournament," Power said.
"In the last couple of years, they stepped it up and asked us to do the coverage of the ESPN3 semifinal games and that was another honor," he said. "It speaks honors to not only the current students that are here, but also to the students prior as well."
Power, who brought Hamil in for his first broadcast almost six years ago, said that Hamil's final trip to Sioux City with HC Media will be the culmination of years of hard work.
"Allen is a fun story as far as he connected with Hastings College Media," Power said. "He heard about us doing coverage when he was a sophomore or junior in high school. When we were at the national tournament, I gave him a call and said as long as we are up there, just give me a call and let's get together."
Once the tournament arrived, Hamil was put directly to work; one of the many advantages Hastings College Media has to boast.
"He was able to come down on the floor with us and interact with the current students and how we operated," Power said. "His senior year the same thing happened, and I consider that two years of experience in Sioux City."
A Bright Future
Just two weeks away, the Hastings College Media team is busy preparing for their busy 31 broadcast week. Corey Westra, Great Plains Athletic Conference Commissioner and the tournament's director, said the relationship with HC Media is a long, fruitful one with a bright future.
"I think it's a great opportunity that a college's media department gets to do a championship game," Westra said.
"I think it's a feather in the hat for the students now and the students before to set the stage for this opportunity. I think it shows the professionalism that they've had throughout the years. Not only in product, but in people," he said. "As a tournament director, they're always great to have around, they do anything and everything you ask of them, so it's a win for Sioux City and I think the NAIA is tremendously excited the championship will be broadcasted by a school in the NAIA."
By Joseph Brown, a sophomore web communication design major from Omaha, Nebraska.