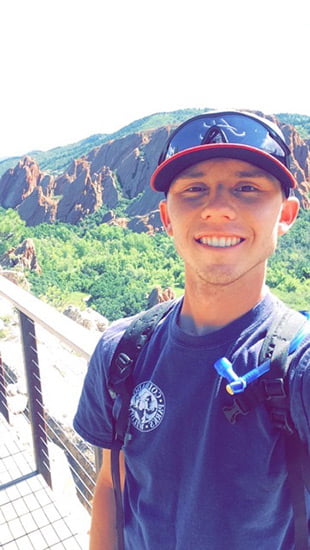 Roxborough State Park, just one of Colorado's 42 state parks, boasts of beautiful red rock formations, covering more than 3,000 acres of land. Established in 1975 and located just 20 miles south of Denver, the park features the Fountain Formation, Lyons Formation and the Dakota Hogback. Among its known wildlife are mule deer, black-tailed prairie dogs, coyotes, cottontail rabbits, red foxes and rock squirrels. Visitors have also sighted elk, black bears, mountain lions and bobcats.
"The rewarding moments of my internship are seeing wildlife thrive in Roxborough because I'm helping to maintain their home, informing visitors about the park and sharing my knowledge with the younger kids," said Kyle Weber, junior at Hastings College.
Maintaining trails throughout Roxborough State Park, preserving the habitat of wildlife and educating visitors about park history and wildlife are Weber's responsibilities this summer. As an intern at the state park, Weber is gaining credit towards his wildlife biology major.
He began searching for internship opportunities at national and state parks after declaring his major after freshman year.
A Colorado native from Arvada, Weber has always found that he enjoys the outdoors.
"My interest in the outdoors comes from growing up in such an environmentally rich state that offers every outdoor activity you can think of," Weber said. "As a kid, my family would always spend time in the mountains, whether it was skiing in the winter or white water rafting in the summer."
His dad, who has worked for the Colorado Parks and Wildlife for more than 25 years, influenced his interest in the outdoors, too.
With all his work outside over the summer, Weber hopes to gain experience in the preservation and maintenance of habitats for wildlife in all areas and seeing how a state park operates on a daily basis.
By Amanda Miller, a senior from Woodland Park, Colorado majoring in journalism