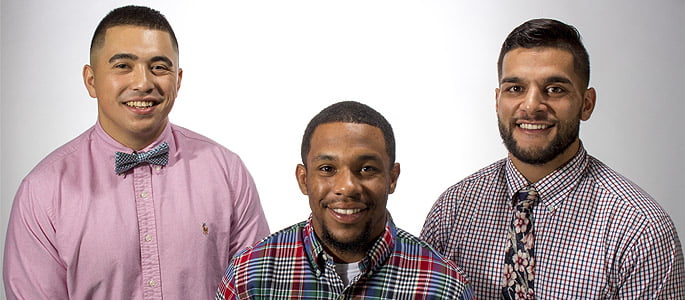 Steven Dunham '16, Casey Molifua '15/MAT '17 and Tahj Willingham represent minorities in the classroom — in more ways than one. These three men of "colorful backgrounds" are not only part of the approximate 20 percent of non-white teachers in the United States, but they've also established a group to promote diversity among educators.
Ethnic and Minority Educators for a Legacy (EME4L) is a local organization focused on educating others about the need for ethnic and minority teachers. Founded in 2017 by Dunham, Molifua and Willingham, the group makes a concerted effort to recruit educators of diverse backgrounds and offers support to retain these educators.
"EME4L wants to enable aspiring educators from all backgrounds to blossom into role models that our ever-growing and changing student population needs," Molifua said.
The young men are all aspiring educators themselves. Willingham is a senior K-12 physical education and elementary education major, and Dunham is in the second year of his Masters of Art in Teaching for K-12 physical education at Hastings College. Molifua accepted his first job as an educator in the instructor of physical education role at Hastings College; he also serves as the accommodations coordinator for the Hastings College Learning Center.
The seed for EME4L was planted at a delegate assembly for the Student Education Association last spring. The assembly concluded with a lecture regarding the lack of diversity in the classroom among students and teachers alike.
"I started thinking about my own school experience, and it made sense why school seemed so much harder for me than other kids," Willingham said. "In homeroom in elementary school, I never had a male teacher or a black teacher. I look back and think about the difference that having a teacher or role model that looked like me might have made."
Willingham's speculations checked out statistically. According to a 2017 study published by the Institute of Labor Economics, exposure to at least one black teacher in grades 3-5 reduced the probability that low-income black male students would drop out of high school by 39 percent. It also increased these students' self-reported intent to attend a four-year college degree by 29 percent.
Another study published in the Educational Researcher in 2016 suggests that students of all ethnicities have a more positive perception of minority teachers than of white teachers and minority teachers can connect better with students of all ethnicities, which might contribute to the overall academic success of students.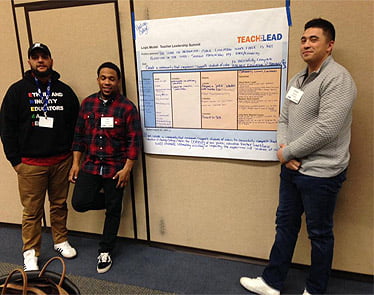 The final push to start a formal organization came after Dunham and Willingham met Christopher Settle, organizational specialist for the National Education Association based in Washington D.C. Settle, another advocate for diversity among educators, listened to the young men's stories about their childhood education experiences, later inspiring them to become leaders for positive change in the education system.
"We started to think about how many kids' lives could we change if we actually started recruiting minority teachers," Willingham said. "It was an opportunity to make a big difference in the education system and in the world."
Since then, trio has been working with professionals at the local, state and national levels to polish their plans for EME4L. In the spring, EME4L will teach lessons about at local elementary schools with the hope of introducing children to education as a possible career path. More importantly, it will allow the Dunham, Molifua and Willingham to become role models for students who may not yet have a mentor that looks like them.
"We went from hoodies and sweatpants, to hanging out with each other in a room talking about world-changing ideas, to meeting with people who can actually provide us the tools to make those ideas a reality," Willingham said. "We are thankful everyday for the opportunity we have to make a difference right now."
By Mallory Gruben, a senior from Eckley, Colorado, majoring in journalism