Although Hayden Grint enjoyed completing lab assignments for his biology major, he never really considered what working in a lab entails — until a Hastings College Summer Research Grant helped the senior from Ord, Nebraska, work as a lab research assistant.
"Working with Dr. Amanda Solem last summer helped me understand just a little bit of what researchers do and how important they are," Grint said.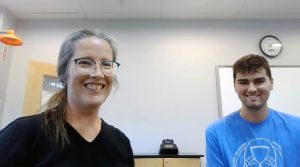 With Solem, a biology professor, overseeing the project, Grint learned to use a Chai Open qPCR machine. Also known as thermal cyclers, PCR machines replicate DNA for research purposes.
"I had only done a little bit of work with PCR in the classroom so I was fairly new but Dr. Solem did a great job of catching me up," he said. "I was surprised with how much troubleshooting we had to do just to get the instrument started."
Once the PCR was operating, he helped develop lab assignments so other students could learn to use it.
Grint, who received a small stipend for his summer expenses as part of the grant, enjoyed the opportunity to explore career paths he had not considered. He also learned to appreciate the cost of lab materials, which he had to order.
"In a normal classroom, all of the starting materials are either already there or the professor had ordered them," said Grint. "I always knew they cost money, but seeing how much these materials cost was definitely an eye opener and gave me an appreciation for the Summer Grant Program."