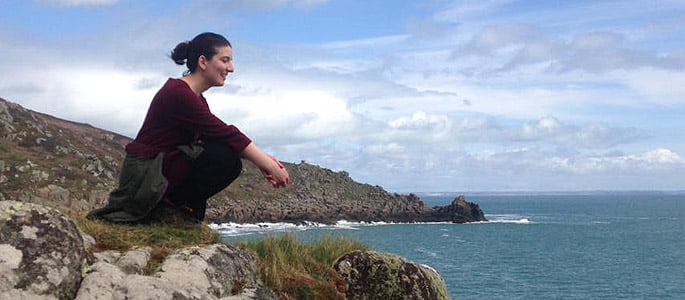 Situated on the southwest tip of England, the English county of Cornwall presents a beautiful, green landscape to its residents and visitors alike. The rugged coastline boasts fishing harbors, beaches, coves, cliffs and ample surfing and water sport opportunities.
It's rich Celtic history earned the county its status as a UNESCO World Heritage Site, and it's rising to become one of the world's most iconic tourist destinations.
Today, this paradise is home to 2017 Hastings College graduate Laura Gregory. After earning a degree in English with a minor in music, Gregory journeyed across the sea to accept an internship with the Penlee Cluster, a conglomerate of Anglican churches in southern Cornwall. There, she is charged with researching New Monasticism, in which communities live like monks for an agreed-upon, temporary period of time.
"The head vicar of the Penlee Cluster is interested in starting a monastic community in Penzance; my job is to help lay the groundwork for that community," Gregory said.
Gregory's studies focus on mystics and religious thinkers, like Saint Benedict, Saint Francis and the ancient Desert Fathers, whose work and lifestyles inspired traditional Catholic monasteries and nunneries. She also learns about modern ecumenical communities by visiting New Monastic communities in the United Kingdom.
"I hope to gain a better understanding of what attracts 21st century people to the monastic lifestyle, what they hope to learn from it and how different monastic communities operate on a daily basis," she said. "I'm presenting my findings to the Cluster churches as they start to consider what they want a monastic community sponsored by the Penlee Cluster to look like."
Gregory's also "gets paid to be a preacher's kid" because she helps lead worship services, writing prayers, reflections and scripture analyses, cook and set up for community meals and work with children through the St. John's Church Playzone.
She spends any extra time exploring the breathtaking countryside, and learning more about the Cornish Celtic tradition.
English, music and Christian ministry intersect
By taking a broad variety of classes at Hastings College, Gregory built a diverse academic arsenal that enables her to see the connections between otherwise separate topics. For her, the progression from studies in English and music, to an internship in Christian ministry makes sense.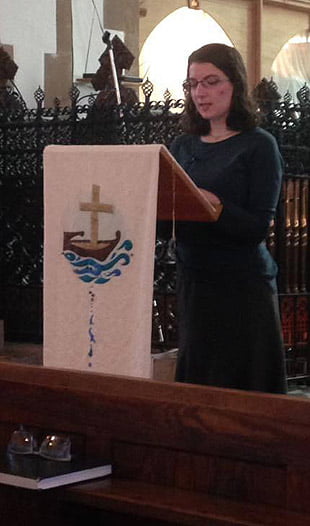 "I ended up with an English degree, and I'm one paper short of a music degree, so it might seem I went in yet another direction when I applied for a job in Christian ministry, but I don't feel like that's quite the case," Gregory said.
Gregory developed a deep interest in Anglo Saxon texts, British medievalism and folklore while at Hastings College. These topics springboarded her toward the study of Celtic Christianity and culture, ultimately leading to her decision to apply for the Penlee Cluster internship.
As for music, her coursework applies more directly. One of her responsibilities includes singing at church services. Cornwall is home to a vibrant music scene — particularly choral music — and both the Church of St. Mary in Penzance and the Church of St Pol de Leon host many concerts throughout the year.
She's also identified a more subtle connection between her musical background and her internship.
"I struggled with solo performance, and at the end of college, I realized I preferred ensemble work because it is not about me. It's about working with other people to create something bigger than yourself," she said. "My music classes showed me that working to benefit a larger community means to the most to me, and that's what I'm doing with the Penlee Cluster."
Gregory's ability to identify the interconnectedness of distinct fields of study provide her with flexibility on the job. By thinking critically about how one topic relates to the next, she's transformed her English degree into a powerful tool to investigate modern religious movements.
"By the end of my time at Hastings College, I didn't feel prepared for one particular job; I didn't even know what kind of work I would be doing when I graduated," she said. "Instead, Hastings taught me how to learn for the sake of learning, then to combine all of my coursework and interdisciplinary skills to accomplish any task at hand. That's been most helpful to me."
As her internship with the Penlee Cluster comes to its close in January 2019, Gregory is considering her next move. She plans to continue studying ancient religious practices and the Celtic heritage with the hope of applying to graduate school to study medievalism.
With the the academic flexibility warranted to her through her diverse studies and her experience applying an interdisciplinary perspective to research, Gregory is confident she's prepared for the next picturesque stop on her academic adventure.
Mallory Gruben '18