As Kelly Grefe's four year journey came to an end when he graduated from Hastings College in 2005, he had no idea where his career would take him. Now, after 15+ years in banking, the 2005 graduate serves as a vice president of business banking at Northwest Bank in Omaha, Nebraska, and was recognized with a 40 Under 40 by the Midlands Business Journal.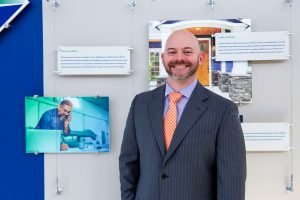 After graduating from HC, Grefe scored a job at a bank in Hastings where he worked for seven years.
"I loved that community and the friends I'd made, so when I got my first job at a bank in Hastings, it was no surprise that I would remain a banker for many years to come," he said.
From there, he took a job at Northwest Bank, where he is responsible for a number of roles, most of which involves commercial lending.
Grefe, like any banker, knew how to crunch numbers or grant a loan but over the years he has distinguished himself in more ways than one.
In the office, his areas of specialty include working capital lines of credit, real estate loans and equipment loans. Outside of work he has thrived as a community leader and prides himself on serving others.
Kelly is a Small Business Association facilitator, active participant in Boots To Business, Small Business Financial Literacy and a SCORE Mentor. SCORE is the leading source of ongoing small business counseling, business training workshops and online expert business resources in Omaha, Nebraska and throughout the U.S. He is a volunteer USSSA youth baseball coach, RMA member, Sons of the American Legion and Nebraska Bankers Association member.
"The most rewarding thing is not giving someone a $10 million loan, it's the small deeds like changing someone's life with a piece of equipment or encouraging someone to take the leap and start their business," he said. "Hopefully my attitude never stinks. I'm grateful for where I'm at and I'm humbled that I get to do what I love everyday, at a place that I love."
By Kianté Stuart, a junior from Nassau, The Bahamas, majoring in communications studies, business administration and marketing.