Hastings College student Samantha Burke is spending her summer watching a lot of basketball. The sophomore from Denver, Colorado, is spending her summer as a communications intern for the Seattle Storm, a WNBA team based in of Seattle, Washington.
A main component of Burke's internship is working with media covering games. "I create game day materials, help with media credentials and interviews," Burke said. "During games, I sit on press row, and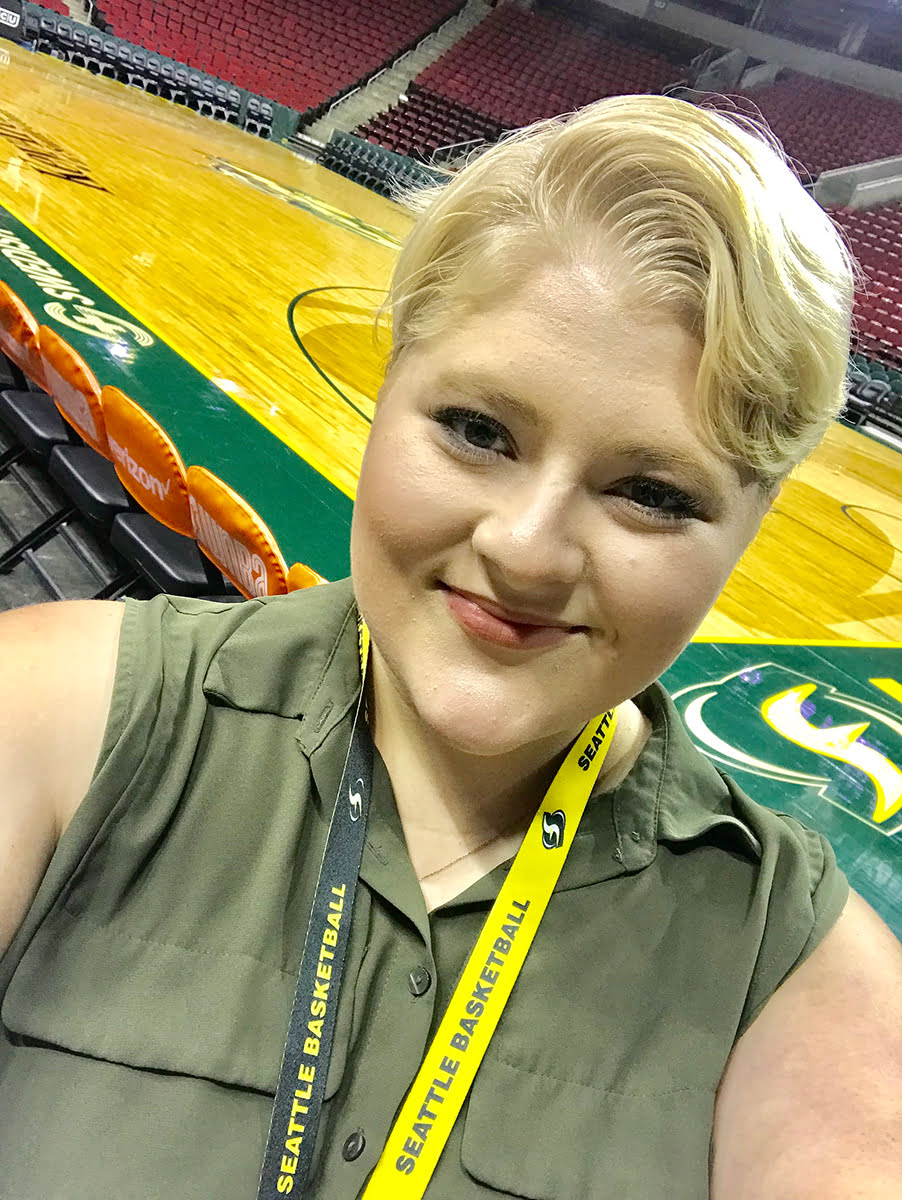 during timeouts and between quarters I run box scores to the visiting team and media. A box score is a summary of what has happened in the quarter of the game."
However, her responsibilities aren't limited to game time. Burke arrives four hours before tip-off to prepare media materials and complete check press in. Following games, she sits in on player and coach interviews with the media. "After the interviews are over, I transcribe them and send them to my boss so they can be used for the post-game notes," she said.
While with the Storm, Burke applies  what she learned in the classroom to the real world. "Last semester I took a communications class and one of the big projects had to do with transcribing interviews, something I had never done before that class," Burke said. "Fast forward to my first day at work when my boss asks me if I have any experience transcribing interviews, and I got to say 'yes' proudly."
The internship has also given Burke the opportunity to learn new skills. "I've learned so much this summer, like how to write a press release and handle media interviews and things of that nature," she said. "I don't know where in the world of communication I will end up, but skills like that will help so much."
When Burke began looking for an internship, sports wasn't part of the picture.
"Hastings College has taught me how to find the value in things I might not think I'd enjoy," she said. "We say it all the time about liberal arts classes; you never know what you will find that you like. That's how I ended applying for an internship with a basketball team. I'm not really a sports person, but figured I'd find that I like working in sports, and I do."
Working with the Storm has also given Burke an idea of what post-grad life might be like. "This summer has given me a lot of insight into what working for a professional sports team is like," she said, adding that she could see herself working in the field  after graduation.
"Working for the Storm is one of the coolest things I've ever done," Burke said. "Not only is the team successful (as of July 16 they led the WNBA), but every person I've met has been  kind, thoughtful and proud to be a part of the Storm team, and I know I am."
By Anna Weber '18