Junior Lily Ealey has witnessed the strengths of a Hastings College education firsthand both at home and abroad. The Lincoln, Nebraska, native and biology major spent the past summer interning at Kanti Children's Hospital in Kathmandu, Nepal, where she gained firsthand experience in the medical field.
Ealey worked at the hospital Monday through Saturday, assisting staff in whatever way she could. Though sometimes those tasks included filing or administrative duties, she spent most of her time interacting with doctors and patients.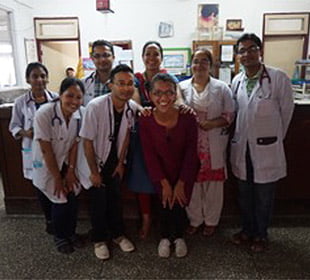 "The internship was very hands-on, I would make rounds along with the doctors as well as observe during procedures," said Ealey. "Occasionally I would have to hold the children down so the doctors could perform tests, which was very hard emotionally."
But no matter how difficult the task at hand, Ealey knew that being a student at Hastings College prepared her for success.
"Of course my science classes furnished me with the basic medical knowledge I needed, but what really helped were the social skills I've honed over the past two years," Ealey said. "Working with students of varying beliefs and backgrounds at Hastings has allowed me to work well in diverse settings such as those I encountered in Nepal."
In addition to interacting with people of different backgrounds, Ealey also had to adapt to working in a setting where very few people could speak English. Though all of the staff Ealey worked with at the hospital spoke English, most of the patients spoke the local Nepali language. Though Ealey did not speak much Nepali, she was still able to use universal hand signals as well as a few phrases she picked up in Nepal to comfort the patients.
The benefits of a strong background in the Liberal Arts offered at Hastings gave Ealey the opportunity to pursue paths outside a rigid biology program. 
"When I first came to Hastings College I wanted to become a pediatrician and started a route to medical school. Though I'm still considering med school, the experiences and classes I have encountered over the past few years have helped me develop an interest in public health," said Ealey. "At this point I'm looking into applying to law school, and with the ability to take classes in a variety of fields here at Hastings, I can do that without having to give up my biology major."
Ealey attributes much of her success to the unique interactions Hastings College professors have with their students, and how that leads to a genuine care among the faculty.
"One of the toughest required classes in the biology department is biochemistry, but despite its academic rigor it became one of my favorite classes; the professor cared much more about our learning than the rote memorization that is often associated with pre-med programs," Ealey said. "That made a difference not only in my command of the material, but also in the way I approach other difficult obstacles in my life."
According to Ealey, the benefits of small class sizes and the strength of the science program at Hastings College were major draws when making her choice on where to continue her education after high school.
"I've always known I wanted to go to a smaller college. After visiting Hastings I knew it was where I belong," she said. "I never doubt that I made the right choice."
By Nick Musgrave, a junior from Parkersburg, West Virginia, majoring in history and political science