Joe Brown, a junior web communication design major from Omaha, Nebraska, is spending his summer interning for Omaha's top staffing company, C&A Industries. So far, Brown has done everything from helping to produce a video that caught the eye of Justin Timberlake to supporting efforts to construct the company's new website.
"I am interning in the training department, which is the department that creates all quizzes, training materials, videos and web material that trains potential hires and in-house employees," Brown said. "My second day I went to work and filmed a video with the entire staff of Aureus Medical, a company within C&A Industries, dancing to a song by Justin Timberlake. Justin saw the video on Twitter and retweeted it."
Brown said he's also building graphics, filming videos and designing and building their new website. "It has been hands-on from the first minute," he said. "They showed me my desk, taught me the programs and then set me free. It has been a really freeing feeling, to be able to create projects that progress the company and add value to it."
HC connections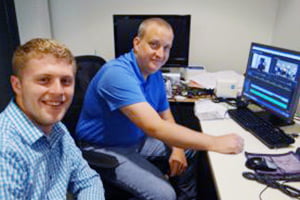 Brown landed the internship after traveling to Las Vegas, Nevada, to accept the National Chapter of the Year Award with the Hastings College Lambda Pi Eta's Omega Chapter. Garret Delphia, the College's chapter president, let Brown know about an internship he'd be perfect for. With the help of Delphia's connections, Career Service Director Kim Graviette and Brown's experience on the HC Media team, he was selected for the internship with C&A Industries.
"When you look at everything that we do at HC Media, from video production and web building to writing, I have had training in just about every area," Brown said. "I have used everything I learned in my internship. I took this last semester of web design fundamentals, and put it to use with helping them with their new website within the first week. I have used my video work to help with new ideas for videos and training materials. I have used every class from the Gray Center in this internship, and I feel like I truly add value to the company because of my experience."
A company that cares
One of the aspects about C&A that Brown appreciates the most is how genuinely well he is treated as an intern, including by company's CEO.
"I was valued from the second I walked into the door, which not a lot of interns can say," Brown said. "My favorite memory had to be at the end of that video when the CEO came up to me and patted me on the back and said, 'Nice job.' It was just surreal. We were surrounded by the 250 people that made up Aureus Medical hugging, cheering and genuinely having fun. It was a memory I'll never forget."
If you'd like to see what else Brown is up to, check out his blog where he writes about his internship and other experiences.
By Jake Konen, a junior from Hastings, Nebraska, majoring in English and Marketing